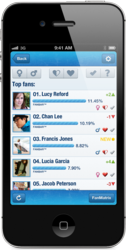 (PRWEB) October 16, 2012
MyTopFans for Facebook is a new iPhone app that reveals the identity of one's Facebook followers, depicting each follower's level of interest in the user.
This beautifully-designed ranking chart, including pictures, rank positions, and quick informational details, shows the user's top 20 followers. The chart is kept up-to-date with the latest information from Facebook, tracking each follower's movement in the Top 20 Chart.
The app also gives the user the opportunity to filter fans by categories such as gender, relationship status, and friend status. It can even show people who are not considered Facebook friends of the app user as being a follower! One option, called the FanBar, allows app users to sort through their followers and find out who is their biggest fan.
MyTopFan users also have access to the FanMatrix, a feature that generates an awesome collage that creates an easy-to-read and cool looking visuals—the bigger the fan, the bigger the photo. With the use of multiple filters found elsewhere on MyTopFans, like gender and relationship status, users can create multiple collages. The FanMatrix can be shared with others on Facebook.
MyTopFans cares a lot about privacy and will never share user information with others.
Give it a go! Please use the promo codes below to download the app for free:
WP9R44NP69MH
NPT7HKAAWT7J
KNFW4KRE7KAL
34JAMT99NY4T
X4LLFKJK64FL
Download MyTopFans for Facebook here: http://itunes.apple.com/app/id560916561
Facebook Fanpage: http://www.facebook.com/mytopfansapp
Web Site: http://mytopfans.dixapp.com
Mail: mytopfans(at)dixapp(dot)com
MyTopFans for Facebook is developed by Dixapp