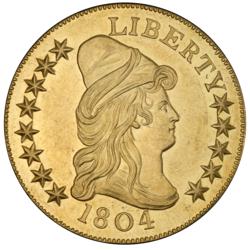 Money is history you can hold in your hands.
Dallas, Texas (PRWEB) October 15, 2012
The public can see more than $100 million of historic rare coins and colorful paper money -- including early American gold coins from the museum-housed collection of the late Dallas business executive and philanthropist, Harry W. Bass Jr. (1927 - 1998) -- at the National Money Show (http://www.NationalMoneyShow.com) in the Dallas Convention Center, October 18 - 20, 2012.
The family-friendly educational event is open to the public.
"Money is history you can hold in your hands, and this will be a Dallas homecoming for some of America's most important and historic coins from the legendary Bass Collection," said Tom Hallenbeck, President of the nonprofit, 28,000-member American Numismatic Association (http://www.money.org), sponsor of the National Money Show.
The $8.3 million showcase of 79 rare gold coins from the Bass Collection includes a one-of-a-kind complete set of $3 denomination U.S. gold coins struck between 1854 and 1889, and an 1804-dated Eagle ($10 denomination U.S. gold coin) that is one of only four known of its kind.
"The Harry W. Bass Jr. Foundation loaned the entire collection to the American Numismatic Association Money Museum in Colorado in 2000. Now some of the gold coins from this amazing collection will be publicly displayed in Dallas for the first time," Hallenbeck explained.
In addition to the Bass Collection, visitors will be able to see and learn about money ranging from half-cents to $1,000 bills. Among the dozens of eye-opening exhibits will be a multi-million dollar example of the one of the five known 1913 Liberty Head nickels. The late Fort Worth dealer, B. Max Mehl, extensively advertised nationwide during the 1930's Great Depression that he'd pay $50 for one of these famous coins.
The 1913 Liberty nickel that will be displayed in Dallas is insured now for $5 million. It was innocently kept in a Virginia closet for four decades because the owners were mistakenly told it was a fake.
More than 500 professional coin and currency dealers attending the show will be buying and selling items ranging from $1 to $1 million, and many of them will provide free, informal appraisals for visitors who bring in their old money. Dallas-based Heritage Auctions, the world's largest collectibles auctioneer, will conduct a public auction of coins and currency in conjunction with the show.
The National Money Show will be held in the Dallas Convention Center, 650 South Griffin. Public hours are from 10 am to 5:30 pm Thursday and Friday, October 18 and 19, and from 10 am to 4 pm Saturday, October 20. General admission is $6. Children 12 and under are admitted free.
For additional information, visit the American Numismatic Association website, http://www.NationalMoneyShow.com, or call (719) 482-9867.