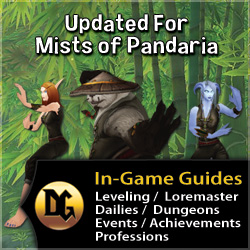 (PRWEB) October 13, 2012
One of the most difficult to level yet most in-demand classes to play in World of Warcraft is the Priest. This class is highly valued due to its strength as the best healer in WoW as well as its very strong PvP ability.
In order to keep the game balanced, Priests deal less damage than other classes and have less mobility in order to make up for the fact that they have so many healing, defensive, and support skills. Many people are reluctant to level up a Priest in World of Warcraft due to the tedious process that is defeating enemies with a Priest.
One new World of Warcraft guide seeks to change that: Dugi's Ultimate WoW Guide. With the new release of their Mists of Pandaria update, Dugi's now provides players of any class with the fastest possible leveling route from levels 1-90. Leveling up a Priest with Dugi's Guide is now significantly faster than leveling up even the quickest classes without using the guide.
Dugi's Guide is actually a GPS-like software which is installed on the user's computer. It then loads when players log on to World of Warcraft and acts like a GPS for the in-game virtual world. Better than a GPS though, Dugi's Guide will now only show players where things are but also generate that list for them. Upon turning the guide on, a list of tasks appears on the screen and the GPS arrow guides players to that particular objective, whether it be going to a new NPC to pick up or turn in a quest or to the quest objectives themselves.
Leveling with Dugi's is so quick even as a Priest because players never actually need to read the quests in WoW or read about what a quest is asking. The guide already has all the quests in Warcraft programmed into it so the downtime normally associated with leveling up through questing has already been taken care of.
It is no surprise that players from all over Azeroth that want to level up Priests (or any class) have been flocking to Dugi's Ultimate WoW Guide. More details at Strategy Guides HQ.