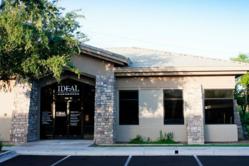 (PRWEB) October 16, 2012
Phoenix – Physical Therapists with Ideal Physical Therapy attend Lower Extremity Biomechanics Seminar to continue education and improve skills.
Members from all of Ideal Physical Therapy's fourteen locations recently attended a seminar to further their education and improve their practice. The seminar, called "Lower Extremity Biomechanics: Clinical Applications and Problem Solving," was a two day event that took place October 6-7, 2012.
The seminar was sponsored by Ideal Physical Therapy and it gave their staff an opportunity to learn new information they could use to improve their skills. Led by Brian Hoke, DPT, SCS, and assisted by Daniel Brauning, MPT, ATC, MTC, the seminar received a large turnout with around twenty therapists in attendance.
Over the course of the two day event, therapists discussed topics such as Anatomy, Terminology, and Joint Biomechanics of the Foot and Ankle, and Functional Biomechanics of Stance and Gait. Demonstrations and labs were also administered for hands on learning.
Ideal Physical Therapy finds it important for their physical therapists to attend seminars like this regularly to continue to educate themselves on new and improved ways to help their patients recover from injury. Dan Brauning, VP of Clinical Services with Ideal, states, "there are always advancements being made in healthcare, we want our therapists to be aware and educated on these advancements and best able to provide quality care with ideal results for our patients."
Ideal Physical Therapy is a group of private practice outpatient physical therapy clinics that specializes in physical therapy and hand therapy. Since 2005, they have grown to 14 locations throughout the metro Phoenix and Tucson areas. Each facility is comprised of professional and dedicated physical therapists who all work towards Ideal's common goal of improving patients' quality of life through the use of their unique knowledge and skills. Ideal prides itself on spending more time with patients by using the latest paperless technologies to make processes easier for its patients and physicians.
For more details about Ideal Physical Therapy please go to http://www.idealphysicaltherapy.com.
###