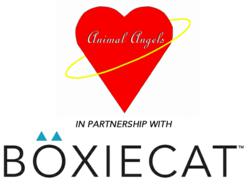 Animal Angles works exclusively with cats to find the best human-cat matches. They have cats of all ages and are a foster based rescue.
Santa Monica, CA (PRWEB) October 17, 2012
Boxiecat, the home cat litter delivery service that provides cat litter subscriptions nationwide has added the Animal Angels Rescue in Bloomington, MN, to its roster of Rescue Partners. The partnership allows Boxiecat to donate a portion of revenue toward the well-being of cats, and, at the same time, lend expertise in raising local and national awareness of Rescue initiatives and goals such as adoptions and donations. The Boxiecat Partner Program is designed to leverage a business foundation for the benefit of animals in need. A portion of subscriptions to Boxiecat made through the Animal Angels website is donated to the Rescue.
Animal Angles works exclusively with cats to find the best human-cat matches. They have cats of all ages and are a true NO-KILL, foster based rescue. Pictures and information about all their adoptable cats can be seen on their website at http://animalangelsrescue.net/2194.html. Those interested in fostering cats in the Bloomington area can find more information at: http://animalangelsrescue.net/2215.html.
Boxiecat's mission is to be good for animals, and good for people. The business strives to be uniquely useful and solve an everyday problem for cats and those that care for them, including providing cats with truly natural, long lasting, and effective litter, saving people time and energy, and reducing the environmental impact of repeat round trips to the store.
About Boxiecat The Boxiecat subscription cat litter service offers home cat litter delivery through Boxiecat.com. Boxiecat brand litter is shipped directly to subscribers with free home delivery. Subscribers save time, eliminate round trips to the store, and put an end to lifting and lugging heavy containers. The service is pay-as-you-go, and features personalized shipment timing.
Boxiecat manufactures its own brand of veterinarian recommended, all natural, premium clumping clay litter. Hard clumps form on the top rather than soaking to the bottom of the box, making litter care easy. Boxiecat litter stays clean even after weeks of scooping. It is unscented and completely eliminates ammonia odors without using fragrance as a masking agent. An over 99.9% dust-free cat litter, it is hypo-allergenic and long lasting.
Boxiecat is recipient of the Cat Fancy 2012 Editors' Choice Award, and has been recommended by The Washington Post, About.com, animal shelters, and veterinarians across the U.S., and has been featured in USA Today, Cornell University College of Veterinary Medicine's Cat Watch Newsletter, The San Francisco Chronicle, The Houston Chronicle, and more.
For more information about the Boxiecat service and Boxiecat brand premium litter, or to subscribe, visit boxiecat on the web at http://www.boxiecat.com. Customer Care can be reached at (877) 817-0253.
For more information about Animal Angels Rescue, please call (612) 229-2125.