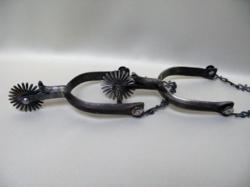 Santa Fe, New Mexico (PRWEB) October 13, 2012
The daily lives of the early Spanish settlers in New Mexico were made easier by the manipulation of metal and mud into tools and objects. Out of the fire, iron and micaceous clay were transformed into multiple functional items. Today's Spanish Market artists continue to work with traditional methods and materials, bringing to them a fresh creativity and aesthetic sensibility. The showcase exhibit "Metal and Mud" that runs from Nov. 17, 2012 to April 30, 2013 is a great opportunity for visitors and locals to see a variety of pieces similar to those for the bygone era of the early Spanish settlers from several 100 years ago. The "Metal and Mud" exhibit opening at 10 a.m. Saturday, November 17, 2012 is featured on the SantaFe.com event calendar.
Iron working was introduced to the Southwest with the Spanish colonization of the Upper Rio Grande Valley. At least two blacksmiths appear to have accompanied Juan de Oñate in 1598, and along with them came tools for making domestic and agricultural items as well as for the production of weapons and armor. The blacksmith was prominent in the development of the Spanish borderland provinces as iron transformed farming and animal husbandry, hunting and warfare. However, raw material was scarce. Spain imposed heavy restrictions on the production of iron in its colonies in an effort to protect its own iron industry. As a result, many implements were wrought or worked from recycled pieces.
While Spanish settlers undoubtedly relied upon their Native American neighbors to provide decorated pottery for their households, cooking and utilitarian pots were most likely produced at home. Micaceous clay seems to have been the most popular and available clay based on finds at colonial archaeological sites, and is still found in the hills of northern New Mexico. It is the mica or aluminum silicate in the clay that gives the pottery its unique "shimmering" appearance. The techniques used for making micaceous pottery were learned from the Pueblo peoples of the Southwest. The pottery was constructed by hand-coiling, scraping, and smoothing. Firing was traditionally done in pits. Vegetal or mineral pigments sometimes adorned the pottery, which was used for carrying water, drinking atole, or cooking beans and stews.
Only a few Spanish Market artists have taken on the challenge of working in iron or micaceous clay. Using traditional techniques of hand-coiling and hand-forging, today's artists create not only traditional objects, but are experimenting with new forms, stretching and manipulating the raw material. Typically working independently, these artists also join forces from time to time to produce collaborative works of exceptional quality in metal and mud.
The exhibition, Metal and Mud, showcases the work of 10 Spanish Market artists working in the media of iron and micaceous clay. Some veterans of many years of the Market and others relative newcomers, each artist brings their individual expertise and interpretation to the material. The result is an exhibition of diverse and exciting new work that challenges us to reassess our views of traditional art.
The exhibition opens to the public on Saturday, November 17th at 10:00am, with gallery talks by the artists between 2:00pm and 4:00pm.
The following artists are participating in the exhibition:
Pottery:
Debbie Carrillo
Annette Morfin
Adán Eduardo Ortega
Jacobo de la Serna
Therese Tohtsoni-Prudencio
Camilla Trujillo
Ironworkers:
Steven Lucero
Larry Madrid
Ralph Sena
René Zamora
Contact Information:
Janella Marsh, Administrative Director
Spanish Colonial Arts Society
Membership at Spanishcolonial dot org
505-982-2226, Ext. 103 / Fax 505-982-4585
http://www.spanishcolonial.org
About SantaFe.com
SantaFe.com provides locals and visitors to Santa Fe alike the most current interactive platform for events, music, arts, business, dining and lifestyle. SantaFe.com is a division of Hutton Broadcasting, located at 2502 C. Camino Entrada, Santa Fe, NM 87507
Contact Information:
Scott Hutton
SantaFe.com / Hutton Broadcasting
http://www.santafe.com
(505) 471-1067 (Media inquiries only, please)