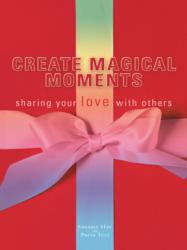 "My book targets emotional needs that we all have. I want others to know that when they shift their perspective, their world can become a much nicer place to live
(PRWEB) October 15, 2012
If happiness was currency, how rich would you be?
Researchers have begun measuring and ranking the happiness index of people in countries around the world. Not surprisingly, 19 of the 20 happiest countries are in the developed world.
But when it comes to happiness, there's always room for improvement—right?
Former special education teacher Sherrie Hay empowers people to find their inner joy and pay it forward in her new book, Create Magical Moments.
Combining conventional wisdom with alternative approaches to happiness, the book discusses the power of positive thinking, ways to pamper yourself, how to make astrological signs work to your advantage and more.
"My book targets emotional needs that we all have," Hay said. "I want others to know that when they shift their perspective, their world can become a much nicer place to live."
The inspiration for the book came to Hay during her correspondence with an Indonesian woman. The women mailed boxes filled with treasures from their respective countries to each other and then blogged about the joy this experience brought them. The cultural experiment has taken flight since.
"Each time I send out a magic box, I grow my own happiness and moments of joy exponentially," said Hay. "I would love to see that ripple effect happen to many others around the globe."
For more information, visit wisewomaninwoods.blog.ca.
Create Magical Moments: Sharing Your Love with Others
By Sherrie Hay and Priya Tuli
ISBN: 978-1-4525-4675-9
Approx. 136 pages
Paperback 6x9
Retail price: $11.99
E-book price: $3.99
Available at Amazon, Barnes & Noble
About the author
Sherrie Hay is a retired teacher and school administrator with 33 years of experience in the education system. She has bachelor's degrees in education and physical education and a master's degree in special education from the University of Brunswick. Hay is a member of Alberta Astrologers, Professional Astrology Bloggers, and the local Chamber of Commerce. Throughout her life, Hay has passionately defended and empowered the underdog; hence her ongoing study of special education, psychology and astrology.