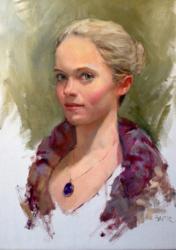 I'm thrilled to have my work exhibited with so many other professional artist instructors. Kudos to the Scottsdale Artists' School and Northern Trust!
Scottsdale, AZ (PRWEB) October 21, 2012
This Thursday night, the Northern Trust Company will host a cocktail and hors d'oeveres reception at its Gainey Ranch location, 7600 E Doubletree Ranch Road for ten of the local leading art instructors at the Scottsdale Artists' School.
Scottsdale Artists' School Executive Director Bernadette Mills has been instrumental in pioneering partnership arrangements with local businesses to showcase and bring community awareness to the extraordinary art instructional resources the School offers year-round.
The reception event is free and open to the public, with RSVPs requested by October 18, to 480-515-4242 .