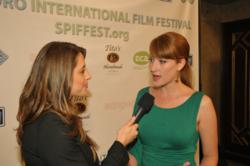 "The San Pedro International Film Festival celebrates the city's diverse culture and contributions to the cinematic arts."
San Pedro, California (PRWEB) October 15, 2012
The First Annual San Pedro International Film Festival (SPIFFest) kicked off on Friday, October 12, 2012 with a screening of the award-winning "The Loneliest Planet." The Warner Grand Theatre event drew an enthusiastic crowd of Indie film fans, along with celebrities, community leaders and special guests. In attendance were Congresswoman Janice Hahn, LA City Attorney Carmen Trutanich, film and TV director James Fargo (The Enforcer, Every Which Way But Loose, Beverly Hills 90210); composer and producer Janet Cole Valdez; actors Dana Lee (Curb Your Enthusiasm, Rambo: First Blood Part II) Golden Brooks (The Great Divide, Hart of Dixie), Brea Bee ("Nikki" in Silver Linings Playbook), Rick Mora (Yellow Rock, Deadliest Warrior) and Veronica Milagros (The Gundown).
SPIFFest organizers have already received several awards and recognitions for their work in creating the festival, including commendations from the City of Los Angeles, County of Los Angeles, California State Assembly, California State Senate and U.S. House of Representatives.
The film festival runs through October 14th with feature films, documentaries and shorts from Hungary, Mexico, Croatia, Colombia, Poland, Canada, Switzerland and the USA. 3D shorts will screen on Sunday, 4:00 p.m. at the Terrace Cinemas, followed by a screening of "Silver Linings Playbook" during closing night festivities. Festival passes can still be purchased online.
"SPIFFest is one of only a handful of film festivals worldwide with a 3D shorts program," says Ziggy Mrkich, executive director of the festival. "Our 3D film directors are amazingly talented and bring a unique perspective to moviemaking."
Festival sponsors include San Pedro Business Improvement District (PBID), Coastal San Pedro Neighborhood Council, The Friends of the Croatian Cultural Center; Department of Cultural Affairs, City of Los Angeles, San Pedro Convention & Visitors Bureau, Crowne Plaza Hotels & Resorts, Monster Energy Drink, Kind Healthy Snacks, San Pedro Today, Script Pipeline, Tito's Handmade Vodka, and Experience San Pedro.
The Warner Grand Theatre and Croatian Cultural Center of Greater Los Angeles are facilities of the City of Los Angeles Department of Cultural Affairs.
About SPIFFest
San Pedro International Film Festival's mission is to celebrate the city's cultural diversity and film production history. SPIFFest provides audiences with extraordinary films from new local and international filmmakers that educate, enlighten and entertain. We also support community programs that help young filmmakers develop the skills needed to achieve their aspirations. For more information email SPIFFest at info@SPIFFest.org.