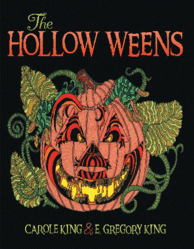 The rhyming story will send delicious chills down the spine of anyone who dares to read it.
Richmond, VA (PRWEB) October 16, 2012
Carving pumpkins has unexpected results in this new children's book released by Dog Ear Publishing. Goblins who live in hollow places emerge from carved pumpkins – their cages – on Halloween night, leaving behind goopy seeds. The weens, who love dark webby spaces, are mad and have one goal: to steal candy and scare children.
"The Hollow Weens," with its richly detailed, colorful illustrations provides warnings about these hideous creatures who slink around dark corners, using their fangs, claws and glowing eyes to scare young people into giving up their treats. Children wearing candy costumes are especially vulnerable to these sweets-loving thieves. The rhyming story will send delicious chills down the spine of anyone who dares to read it. The book ends with a bit of well-timed advice for Halloween: "Don't be like a ween and eat till you're sick. Be polite and say thank you and don't do a trick."
Gregory King is an award-winning artist who works in multimedia. His work includes humor, symbolism and hidden treasures, especially in stories for children. Carole King is a writer and poet who develops the poetry in Gregory's stories. They live in Richmond. To learn more, visit http://www.gregkingbooks.com.
For additional information, please visit http://www.thehollowweens.com.
The Hollow Weens
Carole King & E. Gregory King
Dog Ear Publishing
ISBN: 978-1-4575-1224-7
26 pages
$16.95 US
Available at Ingram, Amazon.com, Barnes & Noble and fine bookstores everywhere.
About Dog Ear Publishing, LLC
Dog Ear Publishing offers completely customized self-publishing services for independent authors. We provide cost-effective, fast, and highly profitable services to publish and distribute independently published books. Our book publishing and distribution services reach worldwide. Dog Ear authors retain all rights and complete creative control throughout the entire self-publishing process. Self-publishing services are available globally at http://www.dogearpublishing.net
and from our offices in Indianapolis.
Dog Ear Publishing – self-publishing that actually makes sense.