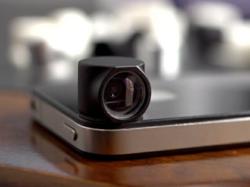 HiLO Lens offers a new angle on iPhone photography
Auckland, New Zealand (PRWEB) October 17, 2012
HiLO Lens is the first ever right angle lens for the Apple iPhone camera and Apple iPad. A Kickstarter crowdfunding campaign has been launched to fund production. Mobile photography enthusiasts are backing this invention on Kickstarter now, to receive one of the first HiLO Lens.
This new mobile photography accessory allows the Apple iPhone camera to be used like a digital camera with a flip/swivel screen and tripod. With HiLO Lens it is easier to take high angle and low angle photos, while seeing the iPhone screen. Hands free iPhone photography / videography is also possible with this unique iPhone camera lens.
HiLO Lens is designed in New Zealand by Mark Hampton along with a team of mechanical designer, app developer and optical engineer. To fund production of HiLO Lens they turned to Kickstarter, a crowdfunding website. Backers on Kickstarter can pre-purchase HiLO Lens now. If backers pledge a total of $27500 on Kickstarter then the pledges will be collected and the initial production run will be made. If the funding goal is not reached then backer's pledges are not collected.
"Kickstarter is an awesome opportunity for entrepreneurs taking ideas directly to market. It offers priceless feedback and helps reduce the financial burden of getting finished product into the hands of early adopters." said Robert Haleluk who raised funds on Kickstarter.
This iPhone & iPad accessory has a cap to protect the lenses. The lens is tiny, so easy to carry with you all the time. The container is precision machined from aluminum, inside there are three optical glass lenses and a prism.
"HiLO Lens offers a new angle on iPhone photography - or iPhoneography. Swivel screens were added to traditional cameras to allow unique angles and otherwise impossible shots. HiLO Lens offers similar creative opportunities to iPhoneographers. Kickstarter is a funding option we could only dream about a few years ago." said Mark Hampton
HiLO Lens makes it easy to take high angle shots, great for filming at crowded concerts and street performances. Ground level or low angle shots are made easy too, this is fantastic for baby photos, young children and pets. Beyond providing new angles for iPhoneography, gadget owners will enjoy sharper photos because any flat surface will hold the iPhone/iPad - making HiLO Lens the world's smallest tripod.
Andrew B White is a pro iPhoneographer who said "I've only started using the HiLO Lens in the last week and its like having a light go on – once you get your hands on one and start using it the opportunities for some very cool shots become clear."
Now it easier than ever to take memorable photos with an iPhone or iPad. With HiLO Lens discover a new angle. For more info about HiLO Lens, please visit the Kickstarter page.
About HiLO Lens - HiLO Lens is the first ever, right-angle lens for the Apple iPhone and iPad camera. The mobile photography accessory allows the Apple iPhone and iPad camera to be used like a digital camera with a flip/swivel screen. HiLO Lens is the first mobile phone accessory proposed by Neccessory Ltd. Based in New Zealand Neccessory Ltd. develops innovative mobile phone accessories.
Apple, iPad and iPhone are registered trademarks of Apple Inc.