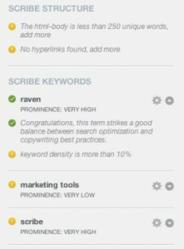 With so much focus on quality content right now, Scribe makes an ideal addition for Raven customers.
Nashville, TN (PRWEB) October 16, 2012
Raven Internet Marketing Tools announces the release of a new content tool featuring Scribe from Copyblogger Media.
Raven will demo the Scribe integration at Pubcon Las Vegas Oct. 16-18, 2012 and release it to customers on Oct. 23, 2012.
Scribe is the 23rd third-party data integration available in Raven.
"Copyblogger's Scribe brings everything Raven could want in a content partner," said Raven Chief Product Officer Jon Henshaw. "Users love the sophistication, ease of use and advice. With so much focus on quality content right now, Scribe makes an ideal addition for Raven customers."
Scribe helps users write search engine optimized (SEO) content. The integration fills an important role in Raven's strategy. Raven users will be to do all the following with content:
• Research target keywords

Research URLs with competing content
Write SEO content with Scribe
Post content to a WordPress blog
Share content via Facebook and Twitter
Mark dates when new content published
Find, capture and report on incoming links to the new content
Analyze and compare changes in keyword rankings for their own website and competitors' websites
Henshaw said the next steps with Scribe include better content traffic metrics from Google Analytics and reporting.
Crafting SEO content with Scribe
Raven is the first software company to integrate Scribe 4 into its product.
"We couldn't be more excited about Raven Tools incorporating Scribe into their feature set," said Copyblogger Media CEO Brian Clark. "We're big fans of the service, and even bigger fans of the people at Raven who support it."
Here's how Scribe works within Raven:
Users add content (original or purchased) to the Content Manager.
Users add meta data and a target keyword for content.
Scribe analyzes content for structural elements and content keywords, including the target keyword.
Scribe recommends how to improve SEO value of top keywords.
Users make changes and re-analyze, if necessary.
Users post the content to their WordPress blog with Raven's Blog Manager.
"We're excited to add recommendations and advice as part of our offering," Henshaw said. "Doing so through a sophisticated algorithm rather than live support is more efficient and easier for Raven customers."
According to Copyblogger, most articles require two or three analyses.
No price increase for Raven plans
Raven will include Scribe analyses in all accounts beginning Oct. 23, 2012.
Pro accounts will receive 20 analyses per month; Agency accounts will receive 50 per month. Raven customers can purchase additional analyses at $0.27 each.
Even customers in Raven's free, 30-day trial period can test Scribe with five free analyses (no extras permitted, however).
Scribe users can also authorize their accounts via API in Raven.
More details and a free, 30-day trial of Raven are available at http://raventools.com/blog/raven-adds-scribe-4-to-content-tools.
Other Raven data integrations
SEO
• SEOmoz
• Majestic SEO

SEMrush
Google Webmaster Tools
Calais
Social Media

Facebook
Twitter
YouTube
uberVU
KnowEm
PPC

Google AdWords
SEMrush
Wordtracker
Email

Campaign Monitor
MailChimp
Content

Lead Capture

Project Management

Metrics

AuthorityLabs
Google Analytics
About Raven Internet Marketing Tools
Raven Internet Marketing Tools is online software that helps customers quickly research, manage, monitor and report on SEO, social media, PPC, email and other Internet marketing campaigns. Its collaborative, multi-user features and fast, professional reports make it the platform choice of thousands of online marketers worldwide. Raven Internet Marketing Tools, a privately held Nashville-based company, was founded in 2007.
About Copyblogger Media
Copyblogger Media is a leader in content marketing education and solutions. Practicing what it preaches, the company evolved from a simple blog into a software company with over 95,000 customers – powered 100% by content marketing.
# # #