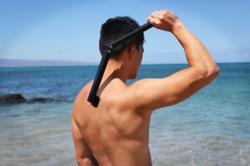 With skin cancer on the rise and tanning salons becoming popular, it's important for everyone to practice safe sun and to protect the body's largest organ
Los Angeles, CA (PRWEB) October 16, 2012
Unless you are Stretch Armstrong, applying lotion on your own back is not an easy task. Fortunately, ZeroEdge Inc. has just announced the launch of their new product, the SunBuddy Lotion Applicator (available at http://www.GetSunBuddy.com). The unprecedented and ergonomic design of the SunBuddy Lotion Applicator makes it possible for anyone to reach their back with ease and comfort, making it the perfect gift for him or her. Whether it's the summer season when skin tends to burn or the winter season, when skin tends to become dry and flaky, SunBuddy 'has your back'.
"There's always that moment of awkwardness, especially for men, when you ask your friend to apply sunscreen to your back. Sometimes, I try to avoid this awkwardness by contorting my arms and wrists to reach my back. I'll end up missing a few spots and getting sunburned. We've all been there, with our own experience of the tomato red sunburn or we've seen a victim of it. Not only is it embarrassing, it hurts," says founder and innovator Patrick Tran. "I really wanted to create something that is stylish, sleek and in a class by itself. Different from other lotion applicators currently on the market that resemble a tool from the hardware store," explains Tran.
The unrivaled features of the SunBuddy Lotion Applicator make it the most convenient and one of a kind lotion applicator on the market:

Extendable and adjustable rubberized handle provides slip-free use. The SunBuddy Lotion Applicator locks at various lengths to provide an additional 4.5 inches of reach.
Multi-purpose and not just for sunscreen. The SunBuddy Lotion Applicator can be used with any lotion or cream. Perfect for year round applications.
Reusable, washable and replaceable NBR pads that feel silky and smooth on your skin. These are the same high-end NBR pads used by major cosmetic companies for makeup applications.
135 degree opening allows reaching all areas of the back and body without having to hyperextend one's arm or shoulder.
Two-tone glossy and matte design that is sleek and attractive.
Folds in half for compactness and discreteness. Perfect for on the go and small enough to pack into one's luggage.
The Perfect Gift for All Ages
"With skin cancer on the rise and tanning salons becoming popular, it's important for everyone to practice safe sun and to protect the body's largest organ," says Tran. "But the SunBuddy Lotion Applicator is not just for the young or the beachgoer. Many of our initial customers are middle-aged or veterans who have limited range in motion. 'For them, reaching their own backs is impossible. The SunBuddy Lotion Applicator allows them to apply medical ointments or creams to their hard to reach areas. There's a sense of pride with being able to take care of yourself."
The SunBuddy Lotion Applicator is available for under $25. For more information or to purchase, visit http://www.GetSunBuddy.com
SunBuddy – ZeroEdge Inc, founded in 2012 and headquartered in Los Angeles, is committed to providing industry-leading personal care solutions.