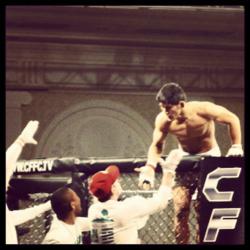 I did this for the Burmese people and if you don't know who they are, watch Rambo - Aung la N Sang
Elkridge, MD (PRWEB) October 14, 2012
Maryland Mixed Martial Arts fighters from Crazy 88, Aung la N Sang and Jon Delbrugge, both won their professional bouts on Saturday October 14th.
Experienced veteran Aung la N Sang was competing at the Cage Fury Fighting Championship 17 (CFFC) which took place at the Dover Downs Casino in Delaware. His opponent would be a seasoned fighter from Iowa, Jason Louck.
After some hard striking exchanges, the Burmese Python, as Aung la N Sang is called, landed a powerful cross to the body which badly hurt his opponent. Aung exploded into action, following up with hard punches to end the bout in round 1.
Aung la raised his record to 14-8 while Jason Louck dropped to 15-10.
Meanwhile, in Sterling Virginia, another Crazy 88 fighter, Jon Delbrugge was making his professional debut in OO Fights 21.
Delbrugge, nicknamed "Devastator", had racked up an impressive 6-0 amateur record and was planning on keeping that streak alive but in the Professional ranks. His opponent, Steve Wampler would also be making his pro debut.
Delbrugge looked dominant again, hurting Wampler on the feet with a stiff jab, then taking him down and utilizing strong ground skills. Delbrugge secured dominant position and scored the choke to end the mount in just under 2 minutes.
Saturday marked the first night that Crazy 88 BJJ had two professional fighters competing in separate venues. Despite being states apart, the coaching staff was able to successfully organize and guide both fighters to impressive victories.