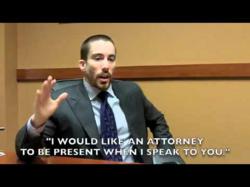 There is a striking parallel between boxing/mixed martial arts and trial law; in both fields it's months of preparation for a single moment when everything is on the line and 'hard work' always dictates the end result.

- David Zwanetz
Columbia, MD (PRWEB) October 17, 2012
The Law Firm of Shapiro & Mack, Howard County's Premier Criminal Defense Law Firm, is proud to sponsor and support Crazy 88 Brazilian Jiu Jitsu, Jon Delbrugge, and Aung La N Sang.
"We are proud that two local athletes from such a great local team are rising to the top of the sport of Mixed Martial Arts, and doing so with what support we can provide," said David Zwanetz - Associate Attorney.
Jason A Shapiro, Managing Partner of Shapiro & Mack, and David Zwanetz, Associate Attorney, have backgrounds in combat sports and recognize recognize the community value behind well run programs like one at Crazy 88 Brazilian Jiu Jitsu. The Crazy 88 Brazilian Jiu Jitsu / Team Lloyd Irvin motto is that "hard work beats talent when talent refuses to work hard." This is the exact sort of business model that Shapiro & Mack can embrace.
"There is a striking parallel between boxing/mixed martial arts and trial law; in both fields it's months of preparation for a single moment when everything is on the line and 'hard work' always dictates the end result."
These particular bouts were particularly special and a extra honor to support as it was Howard County native, Jon Delbrugge's professional debut and Aung La N Sang, a seasoned pro, elected to dedicate this fight to the humanitarian efforts of his home country of Burma (Myanmar). Crazy 88 Brazilian Jiu Jitsu/MMA betters our community of Howard County and as a Law Firm attempting to do the exact same thing, we are happy and proud to support Jon Delbrugge and Aung La N Sang.