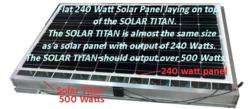 Imagine a MegaWatt installation that requires HALF the SPACE, Less materials and mounts, Less labor, Less wiring, and a much LOWER TOTAL COST
(PRWEB) October 16, 2012
Solar Power Works and Inventionaires Inc introduce "Solar Titan" Space Saving solar panel.
The Solar Titan is projected to produce over 500 Watts of solar power.
The Solar Titan is almost the same size as standard flat 240 watt solar panels.
The Solar Titan has a Structural designed Frame to eliminate the need for traditional racking and rails.
The Solar Titan may reduce the number of panels needed in an installation by ½ (Half).
The Solar Titan may reduce the total material and labor costs by eliminating solar racking and rails.
Solar Titan is a PATENT PENDING product.
Using a High Density of solar cells mounted vertical to angled collector reflectors, the Titan produces a much higher output than standard flat solar panels and by using the mounting channels built right into the structural frame may eliminate the need to install costly rails and racking systems.
Instead just mount the Titan directly to the roof or tilt the panel by attaching standoff legs.
Reducing material costs and producing over 500 Watts of Solar Power the Solar Titan may change how we look at solar power production.
History:
Patrick Harris worked with 2 solar contractors for over a year and found overhead costs were holding back solar installation contractors and a major overhead was labor and material costs.
A typical installation on a residential home would require over 22 solar panels. A huge amount of racking parts and rails cut, fitted and installed. 
This made for many hours of "High Overhead" ( Wages,Insurance,Freight for materials, Travel time) time that was charged back to each customer.
The installation required so many panels because the maximum output was average of 240 Watts.
Patrick Harris, after completing the research, designed the Solar Titan to reduce the total number of panels required and eliminate the need for the costly rails and racking. 
The design is a very elegant solution to a simple cost overhead problem.
Feedback from Solar Contractors revealed the Solar Titan to have many other advantages for Commercial and Large Tracking Systems installations in addition to solving residential cost problems.
Both a Major Distributor and large solar contractor are OnBoard in concept and are awaiting production of the Solar Titan solar panels.
Rooftop Commercial installations usually are done with a Ballast based racking system to keep the number of penetrations to a minimum. The added weight and very high power output of the Solar Titan allowed fewer panels and much less ballast.
 
Large Solar Tracking systems use many panel modules mounted on very strong towers that follow the sun throughout the day. The Solar Titan can reduce the total number of these towers by producing much higher solar power with lower number of panel modules.
Solar Power Works and Inventionaires Inc., will consider investment options for full scale production facility or complete package purchase. Please call for info.
Manufacturing Milestones:
Our first goal is to produce several more prototypes to test and certify the Solar Titan through FSEC (Florida Solar Energy Center) and SRCC (Solar Rating and Certification Corporation) and do installed tests.
Second goal is the production assembly facility to produce 1 MW of annual manufactured power output in a Human powered manufacturing facility.
The next goal is to convert to automated manufacturing and assembly with human powered areas as needed. Planned output increased to 5 to 20 MW annually.
Sales and Marketing:
Wholesale sales channels would be established with many solar contractors directly. A wholesale distributor would be setup for each of USA and several other countries.
Retail sales may be through Internet Marketing and Trade Show attendance.
Patrick Harris,
Holds a degree from Embry-Riddle Aeronautical University and has years of designing, building and dreaming inventions in aviation, construction, architecture and many fields of science. He has computer CAD experience, electrical design and prototype experience, welding and fabrication experience and can accomplish most all aspects of a project. He is a private pilot since 1972 and an aircraft mechanic for many years and has worked with several different aviation companies in aviation mechanical and quality control. He owns Simworx.com to design, fabricate and market motion simulators. He has designed many products for individuals, businesses, and simulator markets.
Solar Power Works has other Patent Pending solar products like the "Optimus CS" which is a customer installed Turn-key solar system that includes the built-in "Sunflower Sun Tracking System" to help the Optimus CS produce 40% more power. Customers will save by installing the system themselves and could see the solar rebates cover the cost of their systems.
Solar Power Works is a division of Inventionaires Inc.