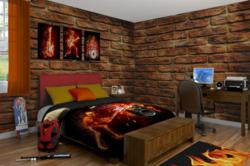 Pierre, SD (PRWEB) October 16, 2012
It's that time of year. Kids are back to school, mothers are washing sheets and putting winter blankets back in hope chests, dusting bookshelves and plumping pillows. Kids are expressing their personalities in their bathroom decor and wall art in their dorm rooms, freeing themselves to display their sense of style for the first time in their lives. They're saying something about who they are with their choice of shower curtains and area rugs. Their comforters reveal something about themselves, and the blankets they take to football games make important statements about their take on reality.
VisionBedding gets this, and has collected their most popular galleries into a single collection of http://www.visionbedding.com/Bedding/Dorm.php [dorm stuff __title__ Dorm Bedroom Decor] for everyone college bound. Whether kids are heading back to school or into a dorm for the first time, this collection of customized decor allows them to take their personalities with them and show them off in style. There's a big difference between zombies and dragonflies, wizards and cupcakes. They can put together decor that shows off their eccentricities, their unique spins and unspoken passions. With custom pillow shams and bath towels that put dinosaurs on mystical misty islands and unicorns in dreamy skies of silver, these galleries bring together the everyday interests and popular trends of today's fashions for young people headed into their own lives.
With hundreds of new designs in each of its galleries, VisionBedding has collected sensational art work and outspoken designs for customized products from throw rugs to wall murals. It's easy for customers to browse their galleries, choosing from themes and colors and styles before zeroing in on that perfect design with the perfect tones for just the right street sense in their decor. This dorm themed collection brings together every category that appeals to teens and college kids, from extreme sports of all kinds to music of every genre and fantasy from every realm. It offers them a chance to convey who they are without saying a word, from a love of sports to a deep desire to travel to Africa or explore interplanetary space. Once again, VisionBedding has anticipated its customers' needs and is responding with easy to use great to explore galleries specifically chosen for their appeal to the college set.
VisionBedding's Phone Number is 605-222-7978 and sells worldwide