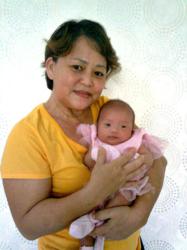 Our aim is to help mothers feel confident of looking after their baby when we leave after the confinement period.
Singapore (PRWEB) October 15, 2012
NannySOS was started by a group of confinement nannies who saw the need to provide reliable and experienced confinement nannies to mothers. Consisting of 23 women with at least 5 years of experience, their goal is to give mothers a positive confinement experience that promotes efficient post-natal recovery.
Bad confinement experiences could double a mother's risk of developing post-natal depression, stated an article in The Straits Times in September 2011. NannySOS thus believes that a mother should feel optimistic when recovering from childbirth, citing this as one of its main goals.
One of the seemingly more important aspects of confinement is consuming the right food. Depending on whether a mother has delivered her baby via a vaginal delivery or Caesarian section, an experienced confinement nanny should be able to prepare suitable confinement food to fuel recovery.
"We know what types of food a mother can or cannot eat. For example, we prepare Red Dates Longan Tea everyday that is essential during the confinement period. Such food ensures that she is getting all the nutrients she needs to get back in good health," says Lay Chu, who leads the team of confinement nannies.
The confinement nanny of 10 years also believes that she understands the worries of a first-time mother, such as being anxious about whether she will be able to care for her baby after the confinement lady leaves.
"Many confinement nannies look after the mother and baby too well that when the confinement nanny leaves, the baby does not feel as attached to his own mother and starts crying. This can leave the mother feeling depressed that she is unable to look after her own baby," shares Lay Chu.
While it is important that both mother and baby are well-taken care of, she also mentioned that a responsible confinement nanny should leave the mother feeling confident of looking after the baby on her own. This, she highlights, is what makes her team of confinement nannies stand out from the rest.
NannySOS also emphasizes that it is not an agency. When clients call to enquire, they are able to direct their questions to a prospective confinement nanny. Miscommunication is thus avoided as both parties can clarify expectations and job scope before confirmation.
While considering which confinement nanny to hire, mothers can visit their website which also shares tips on pre-natal and post-natal care. These resources hope to equip mothers with the right knowledge on pregnancy and confinement practices, empowering them with confidence to care for their babies.
To obtain a free consultation on hiring a confinement nanny, visit NannySOS to find out more.