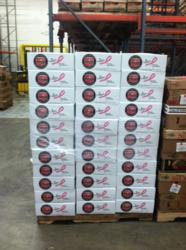 We wanted a program that would allow the wholesale and retail clients to participate and create a synergy through to the end user.-Mike Davis, CEO
JESSUP, MD (PRWEB) October 15, 2012
G. Cefalu Bro and Capital Seaboard are partnering with BCRF to raise awareness and support of breast cancer research by donating a portion of every sale of specially marked cases of Romy© Brand Tomatoes. The companies showed the substance of their intentions by pledging a minimum donation of $25,000 to BCRF.
"We at G. Cefalu / Capital Seaboard are so proud to have the privilege of partnering with such a wonderful charity. Our family and friends are all too familiar with the severity of breast cancer, and we are dedicated to helping The Breast Cancer Research Foundation® in their efforts to find a cure. Our Pink Romy® Brand Tomatoes can be found in many of your local grocery stores", stated Bernie Cefalu.
The program will run through Q4, 2012 to the end of Q3, 2013. The companies are supplying POS Materials and Merchandising Assistance to Retail Customer who participate in this Tomato program.
Mike Davis, CEO of the G. Cefalu and Capital Seaboard said, "We wanted a program that would allow the wholesale and retail clients to participate and create a synergy through to the end user and consumer. With the partnership and support of BCRF we were able to accomplish this as well as keeping the research dollars in our community to support the folks that support us. Currently .91 cents of every dollar spent by BCRF goes directly towards breast cancer research and awareness programs, and that is the type of charity we could support and put our name on."
The Breast Cancer Research Foundation is an independent 501 (c) (3) not-for-profit organization whose mission is to achieve prevention and a cure for breast cancer in our lifetime by providing critical funding for innovative clinical and translational research at leading medical centers worldwide, and increasing public awareness about good breast health.
For more information on how you can help contact Bernie Cefalu directly @(443) 661- 5601 / Toll-Free at 1-888-755-1733 / bcefalu(at)gcefalu(dot)com