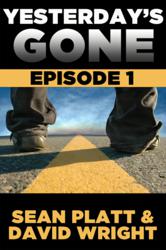 Readers refer to the title as "a mash up of LOST, 24 and maybe Die Hard, if written by Stephen King.
Cincinnati, OH (PRWEB) October 15, 2012
Sean Platt and David Wright, Kings of the Serial, are offering the pilot episode of their flagship series, Yesterday's Gone for FREE on Amazon.
Yesterday's Gone is the series that started it all for the serialized fictions writers. First published late last summer, with the full season available in early fall, the title was a game changer, not just for the writing duo, but for serialized fiction on Amazon.
The pair immediately started using alternative language to describe their series, never referring to their titles as books, but rather "episodes" or "seasons," so readers had a shortcut to understanding that the authors were delivering a different sort of reading experience, more aligned with what they were used to with scripted television than anything else on Kindle.
Yesterday's Gone received immediate, rave reviews. Readers refer to the title as "a mash up of LOST, 24 and maybe Die Hard, if written by Stephen King." Yesterday's Gone has three seasons and over 300 5-star reviews. In short, readers love them.
"We're thrilled beyond belief," said Platt. "It's been a year since the first season of Yesterday's Gone came out, and since then the climate of serialized fiction has definitely changed. With Amazon Serials now live, serialized fiction is 'cool.'"
Doing serials before they were cool has done wonders for the duo, landing them a publishing deal with Amazon's 47North. An indie publisher to the bone, Platt has publicly stated that he wouldn't take a deal with any traditional publisher, but would accept one with Amazon.
"Amazon gets it. They understand where things are going, and are helping authors get there. They helped make our dreams come true when other houses couldn't. Of course we would sign with them."
Platt and Wright have two serials in production with 47North, and a big improvement on their previous model which required a new ebook for every episode. Now, readers who purchase through Amazon Serials will pay once and receive subsequent episodes as they are released, making it a lot like TV for your Kindle.
Platt and Wright have already released their premier series, Z 2134, a zombie-thriller that's a mash up of 1984, Hunger Games, and The Walking Dead. Z 2134 is available now, at the introductory price of $1.99 for the entire season.
Platt and Wright hope that readers who enjoy Z 2134 will want to check out the series that started it all for them. The "pilot" episode is free, and as many fans have said, "Impossible to put down."
Readers can download their FREE episode of Yesterday's Gone Season 1, Episode 1 now.