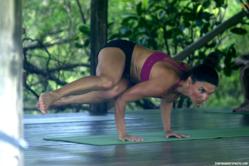 "Its an honor to partner with Lauren. I've seen her overcome so much adversity, she's a true inspiration, an incredible role model. We're proud to partner with her." Bob Witty- Owner of Real Surf Trips.
Playa Negra, Costa Rica (PRWEB) October 17, 2012
Mother Nature's playground in Playa Negra, Costa Rica now caters to a new kind of luxury retreat, with Stand Up Paddle Boarding, Yoga, and Surf being the back bone of the experience. Action sports yogi, Lauren Abraham has partnered with Real Surf Trips in Playa Negra, Costa Rica, and is offering their first SUP focused yoga retreat.
With other celebrity athlete names tied to Real Surf Trips, such as 4 time world surf champion Lisa Anderson and her surf camps, this too is sure to be a great vacation experience with a wonderful turnout for the high season of Costa Rica. The SUP/Yoga experience with Lauren Abraham, offers a very well balanced sports and wellness experience in a beautiful 5 bedroom home on the waters edge in Playa Negra. Lauren incorporates an anti-aging/anti-inflammatroy diet into the weekly regimen and also offers her clients various types of yoga at selective studios throughout the jungle area, including teaching SUP yoga on the flat waters near the retreat house.
For those wanting to explore other activities in Playa Negra, The Lauren Abraham Lifestyle Experience offers mountain biking, hiking, horse backriding, and a trip into world famous shopping village, Tamarindo. The 7 day trip is for surfers of all levels, also and there is all of the best gear & boards for guests to use. Whether you are a novice paddler, beginner yogi, or avid surfer, Lauren's Retreat will gift you an experience like none other, guaranteed to make you feel lighter, leaner, stronger, and more empowered than when you arrived.
"I want to encourage women and couples to come experience mother natures playground together! Surf trips are not only for "the guys" anymore! Come, let your hair down and let lifes simple pleasures take us to a new found paradise." - Lauren Abraham
http://www.realsurftrips.com
info(at)realsurftrips.com
831-440-7676