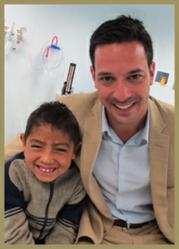 If all you have is a hammer,or chin implant, the whole world is a nails, or chins needing a chin implants." Dr. Maercks feels that there are good indications for placing chin implants, but they are relatively rare
Miami, FL (PRWEB) October 15, 2012
Chin Implants have recently been identified by the American Society of Plastic Surgeons as the fastest growing procedure in plastic surgery, up 71% in the past year. Dr. Maercks, a revered Miami aesthetic and craniofacial surgeon is concerned by this figure and the resultant increase of chin implant problems that he is seeing secondarily. In his dedication to public education to the internal workings of the cosmetic surgery, he has posted a new blog entitled "Ouch Right on the Chin! The Sad Truth About Chin Implants" describing how the drive in pushing this procedure forward is not in the patient's best interest.
Dr. Rian A. Maercks, a Miami plastic surgeon known for exceptional knowledge, skill, honest and dedication to his patients, recently started an increased frequency of blogging under the general theme "Cosmetic Surgery Buyer Beware." Dr. Maercks has been disturbed by the continually growing portion of his practice dedicated to secondary revisions. He is seeing more and more avoidable complications that at least appear to Dr. Maercks as being greed driven. He recently explained the dangers of many semi-permanent and permanent fillers that Dr. Maercks feels should never be injected. He also recently analyzed "the anatomy of the $3000 breast augmentation" to educate patients to the dangers of discount plastic surgery. "Complications are part of any plastic surgery practice. We used to say there are only three types of surgeons that don't have complications, those that don't operate, those that do not see their post-operative patients, and those that lie. It is simple statistics even in the best of hands, things happen." It is not the low frequency complications that have Dr. Maercks worried, it is the predictable ones. According to Dr. Maercks, free silicone, poly-L-lactic, methylmethacrylate and hydroxylapetite all of which are commonly injected in current practices under heavily advertised brand names predictable destroy and age the face. Maercks has recently warned about using these products and also warned about therapies claiming to be "stem cell" based(http://www.rianmaercksmd.com/blog/2012/10/protect-yourself-cosmetic-surgery-buyer-beware-interim-update-and-blog-announcement/).
This week Dr. Maercks sets his sights on helping patients avert the aesthetic disasters that he has seen with increasing frequency, seeking help in his practice after chin implant placement(http://www.rianmaercksmd.com/blog/2012/10/ouch-right-on-the-chin-the-sad-truth-about-chin-implants/). I'm disheartened when I see patients spend a lot of money to adversely affect the aesthetics of their face. Chin augmentation, reportedly the fastest growing plastic surgical procedure, fits exactly into Dr. Maercks observation of the consumerism of the doctor-patient relationship(http://www.plasticsurgery.org/News-and-Resources/Press-Release-Archives/2012-Press-Release-Archives/Chin-Surgery-Skyrockets-Among-Women-and-Men.html). "Recently I had a patient seek out my practice for rhinoplasty and we decided on a conservative rhinoplasty with a genioplasty to vertically shorten her chin and add a few millimeters of advancement to get her to a beautiful harmonious aesthetic balance. She was under contract with a label that had not had experience with my practice and insisted that she visit an otolaryngology practice known to them for her care. She returned to me months later with a destabilized nose with none of the aesthetic issues addressed and even worse, a chin implant." The patient has now undergone facial balancing procedures with Dr. Maercks to disguise the previous work and will wait for sufficient time to elapse for revisional rhinoplasty and removal of the unaesthetically placed chin implant. "I wish this patient was a unique one in my practice. I really feel that in order to be able to make the decision to place a chin implant , the surgeon must have expertise in genioplasty. In this way, they can reasonably decide what intervention can deliver aesthetic goals. If all you have is a hammer,or chin implant, the whole world is a nail, or chins needing a chin implants." Dr. Maercks feels that there are good indications for placing chin implants, but they are relatively rare in patients needing adjustment of the lower third of their face.
In his short and to the point new blog, Dr. Maercks explains that financial gain has many surgeons "selling" a chin implant as a add on bonus to rhinoplasty without any regard for how this might affect aesthetic outcome or long term complications. "The young patient I described has a long promising career in front of her is extremely likely to have a complication of infection, extrusion, bone resorption, skin stretching and ptosis or nerve compression over her life. This just isn't the right thing to do on a young patient that needs significant changes. In his blogging efforts, Dr. Maercks hopes to raise awareness and hopefully protect future patients from making the same sort of mistake with unscrupulous or undertrained practitioners.