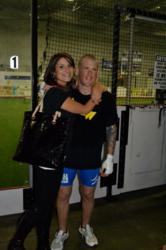 "I try to represent Jiu Jitsu to the fullest every time I fight. I am not one dimensional by any means but I strive to be considered a specialist at grappling." - Jon Delbrugge
Sterling, VA (PRWEB) October 15, 2012
Delbrugge (1-0 pro, 6-0 amateur) showed off his usual dominance while stopping Steven Wampler (0-1 pro, 9-5 amateur) in just 1 minute and 56 seconds into the first round. Delbrugge opened up with a few stiff jabs and a hook in the early minutes of the round before taking him down to the mat and finishing him with a rear naked choke.
To the surprise of few, rising MMA lightweight prospect Jon Delbrugge decisively disposed of his opponent Steven Wampler in the first round of the co-main event at Operation Octagon XXI in Dulles Virginia on Saturday night.
After standing on the feet for just over a minute the fight made its way to the ground where Delbrugge was able to trap and entangle his opponent until he saw an opening to finish the fight via submission.
"I try to represent Jiu Jitsu to the fullest every time I fight. I am not one dimensional by any means but I strive to be considered a specialist at grappling," Delbrugge said after the fight. "I'm going to continue to train in every aspect of MMA. In fact I am leaving for a trip to Thailand in five days to strictly concentrate on my stand up skills ."
Delbrugge and Wampler were both experienced amateur fighters on the east coast circuit. There was a lot of anticipation regarding this fight as Wampler was not only making his pro debut but his lightweight debut as well.
Earlier in his career, Steve Wampler has fought at 185 and 170 pounds. He decided to make the cut to 155 pounds to be more competitive. Some thought this was going to be a test for Delbrugge because of Wampler's size and experience.
Delbrugge didn't seem to have any problems dealing with either, displaying strong wrestling and beautiful jiu-jitsu maneuvers that eventually gave him his first (W) in the win column of his professional Mixed Martial Arts record.
"I feel so happy, because everyday I try to work as hard as I possibly can to become a better person and a better athlete. I look at it like I am either moving forwards or moving backwards. There is no standing still. That's just the type of mentality that my mentor and coach Julius Park has instilled in me. So yeah, I am happy but definitely not satisfied" Delbrugge said.
This was Delbrugge's first pro fight and with no exclusive contract obligations to any particular organization he seems to have a bright future ahead of him. "Right now Jon is a free agent and still developing. We will probably put him in another show around January. Most likely in a bigger organization but nothing too crazy, not yet at least." Said Jon's manager David Zwanetz