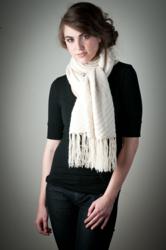 Mayu provides income to talented knitters in the Peruvian Andes and is offering 10% off and free shipping in celebration of Oct. Fair Trade Month.
Chicago, IL (PRWEB) October 16, 2012
Chicago based business, Mayu, is celebrating October Fair Trade Month with an exclusive offer for 10% off one-of-a-kind, high-end alpaca scarves and winter accessories. The special offer also includes free shipping through the end of October. Fair Trade Month, which recognizes the hard work of artisans and producers around the globe, is important to Mayu and since the company's inception, Mayu has been a proud member of the Fair Trade Federation.
Kate Robertson, Mayu's founder explains how Mayu became involved in Fair Trade. "As a Peace Corps volunteer in Peru, where I met Mayu's talented knitters, I witnessed first-hand the inequalities and racism that the indigenous women faced while trying to commercialize their beautiful alpaca knitwear in Peru. As soon as I came back from the Peace Corps, I joined Chicago Fair Trade and have since been a strong advocate for Fair Trade practices and principles."
Mayu's new 2012 collection of hand-knit alpaca scarves, hats and wraps are knit high in the rural Andes and provide an alternative income to women with scarce economic resources. The company adheres to the guidelines of the Fair Trade Federation and is committed to paying the artisans a just and fair wage, which helps them to support their families.
The winter weather is just around the corner and it is the perfect opportunity to shop Mayu's new 2012 collection of luxurious alpaca winter wear. Shoppers can take 10% off all orders and receive free shipping through the end of October in honor of Fair Trade month (coupon code FTMAYU10 at checkout).
About Mayu:
Mayu is hand-knit, pure Peruvian alpaca goodness -one hundred percent. Mayu is also a member of the Fair Trade Federation and was founded as a result of the founder's experience in the Peace Corps in Peru.
100% pure alpaca. 100% hand-knit. 100% peruvian. 100% good.