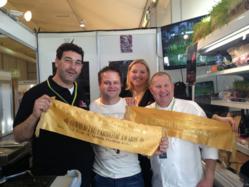 We are extremely proud to have won these awards.
(PRWEB) October 18, 2012
Seven Hills Tallarook is a large, 600 acre rural property in Tallarook, Victoria. Originally opening in 2007 as a goat farm, Seven Hills has now expanded to include student courses, training, and farm stay experiences.
Seven Hills Tallarook have recently been showcasing their premium quality goat meat at the Royal Melbourne Agriculture Show. They were not only representing Seven Hills and their 33 Alliance Partners, but the entire Farmed Goat Meat industry. "During the 11 days we were showcasing, sampling, and cooking our range of world-class products such as Goat Ham, Goat Burgers, Goat Pies, Chorizo, Pastrami, Gourmet Sausages and our full range of primal cuts" says Taylan Atar, owner of Seven Hills Tallarook. "My wife Megan and I were there interacting with showgoers and answering any questions they have about goat meat or the Seven Hills operation".
Seven Hills Tallarook won two awards at the 2012 Melbourne Show. "It's one thing to take out the Best Commercial Award for the Tastes of Victoria Pavilion but it sure is a whole new ball game when you win the "Best overall Exhibitor" for the entire Royal Melbourne show!". "We are extremely proud to have won these awards. It's a great achievement for not only Seven Hills Tallarook, but also the farmed goat industry" says Atar.
"We came to The Royal Melbourne Agriculture Show to showcase some of the great produce coming out of Seven Hills and our Alliance Partners, as many people don't think of goat meat as option when it comes to dinner". "Together with our alliance partners we aim to change this mentality, and this award proves it can be done!" says Atar. "We will continue expanding and enhancing our Seven Hills operation and can hopefully take out many more awards moving forward!"
"Thank you to all the celebrity chefs that used, demonstrated, promoted and showcased the Seven Hills products over the past 11 days and thank you to all our growers and suppliers for doing such a magnificent job in producing such happy and wonderful farmed goats." says Megan Atar. "We really want to thank the following chefs for demonstrating our goat products over the course of the show:
Guy Grossi - My Kitchen Rules
Matt Baker - Whe-Eat
Chris Badenoch - Josie Bones and Masterchef
Matt Wilkinson - Pope Joan
Travis McAuley - Hellenic Republic
Goats on Hill
Seven Hills Tallarook will be hosting exclusive 'paddock to plate' days at the farm. Featuring Matt Baker, chef and owner of 'Whe-Eat', these paddock to plate events will focus on exploring behind the scenes of a sustainable goat farm, as well as other farming activities.
Spend the day experiencing farming activities including a behind the scenes look of the farm, yabbie catching, and vegetable picking. In the evening, enjoy sunset canapes with a three course farm appreciation, matched with local sustainable wines, winding down with relaxing 360 views over the Seven Hills Farm.
Tickets for these exclusive 'paddock to plate' events are available online at the Seven Hills Tallarook website. Tickets are $220 for the full day experience or $120 for dinner only.
About Seven Hills Tallarook
Seven Hills Tallarook use sustainable energy to produce their own electricity harnessing wind and solar power. Their pristine water comes from captured rainwater, underground bores and natural river systems. The animals roam freely in 20 to 40 acre paddocks.
Each paddock is equipped with shelter to protect the animals from the elements. They are fed a rich diet of pellets which are readily available on demand and are hand fed fresh fodder 3 times a week that is delicately sprouted in our own fodder factory.
Seven Hills Tallarook's key strengths lie in the ability to produce their own product from "paddock to plate". They guarantee both quality and consistency without compromise. They recognise that the biggest concern in the foodservice Industry is supply and consistency and that customers want to be reassured that their goat meat supplier provides a product that is of the same quality and standard every time.