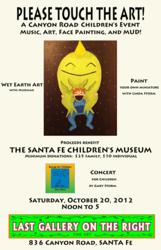 Says Linda Storm, gallery owner and artist. "There is nothing more pure than the creativity and joy of a child."
Santa Fe, NM (PRWEB) October 14, 2012
"Please Touch the Art" is a special event to benefit the awesome Santa Fe Children's Museum. Inside the gallery, children will be invited to hear the stories of the seven featured artists, and the meanings of their work. Outside in the magical courtyard they can play with earth clay, paint a miniature, hear live music just for children, and eat veggies, dumplings, and eggrolls. This gallery is listed in the business section of SantaFe.com.
"It's time to bridge the gap between generations, between people and nature, and fill this historic road with fresh youthful energy," says Linda Storm, gallery owner and artist. "There is nothing more pure than the creativity and joy of a child." She speaks from experience, because she is also a Montessori teacher. To this day her former students return to visit her and some have even become collectors of her art. One of the outstanding features of the gallery is that it offers fine art for children's rooms.
This family event will take place from 12 – 5 p.m., Saturday, October 20, 2012, at Last Gallery on the Right, 836A Canyon Road, Santa Fe, and a street known for its historic adobe homes that evolved into world famous art galleries.
Live music for children will be performed by minstrel Gary Storm, who will play songs from his recently released album, Songs for Children. This will be a highlight of the day.
This event will benefit The Santa Fe Children's Museum. There will be a minimum donation of $25 per family and $10 for individuals.
About Last Gallery on the Right:
Last Gallery on the Right – A different experience in Santa Fe, 'The City Different'
836- A Canyon Road, Santa Fe, NM
Last Gallery on the Right represents a culturally diverse body of work by artists from Northern New Mexico. Among them is Bea Duran, an award winning drum-maker from Tesuque Pueblo, Thor Sigstedt a sculptor who built a most amazing bronze staircase in the Crescent House, adjacent to Frank Lloyd Wright's Pottery House. Juniper Storm paints images of children scaring away colorful fuzzy monsters; ideal art for children's rooms. Latino painter and builder Touché who built a house for Ringo Starr, and paints horses, a favorite of which is a rainbow hued horse titled Celebrate Diversity.
Contact information:
Linda Storm
Telephone: 505-660-5663
Email: stormartist at gmail dot com
http://santafegallery.biz/
Songs for Children by Gary Storm at http://kidssongs.biz/wp/
About SantaFe.com:
SantaFe.com provides locals and visitors to Santa Fe alike the most current interactive platform for events, music, arts, business, dining and lifestyle. SantaFe.com is a division of Hutton Broadcasting, located at 2502 C. Camino Entrada, Santa Fe, NM 87507
Contact Information:
Scott Hutton
SantaFe.com / Hutton Broadcasting
http://www.santafe.com
(505) 471-1067 (Media inquiries only, please)