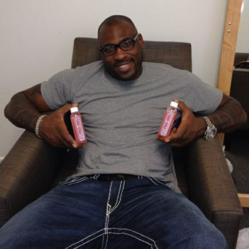 "PRO-NRG MEANS EXTRA PROTEIN AND ENERGY WHEN YOU NEED IT MOST"
Morganville NJ (PRWEB) October 15, 2012
A Discovery That Worked for Its Discoverer
Tania Patruno considers herself "just an average person from New Jersey", who happens to always have ideas for new products.  She's usually kept them to herself, though, thinking no one would be interested.  But there was one she decided she had to pursue, because she saw the possibilities and benefits it could have for countless numbers of people.
The product was Pro NRG, a protein- and vitamin-packed flavored water, with an energy boost. Tania knew there was a calling for her performance-enhancing beverage when it helped her in overcoming the weight management struggles she had been dealing with for years.
When Pro NRG appeared on the shelves of retail outlets throughout New York and New Jersey, it wound up selling tens of thousands of bottles.  She garnered celebrity endorsements from NFL superstars Brandon Jacobs and Dwayne Hendricks, and NBA pro Josh Boone.  Following that, her product was featured on ABC Sports,NBC Sportstalk, and Good Day New York.
On October 19, 2012, she will have the chance to take her success to the next level, when she brings Pro NRG to ABC-TV's Emmy-nominated reality show, Shark Tank.
A Chance for Ideas to Find Investors
For anyone who doesn't know, the show gives potential entrepreneurs the opportunity to pitch their idea to a panel of high-profile investors, such as business magnate Mark Cuban, real-estate giant Barbara Corcoran, and the founder of FUBU fashions, Daymond John.  The investors then decide whether or not to back the project. Shark Tank is now in its fourth season.
"Rehydrate, Replenish, Refresh"
Pro NRG was developed in 2012.  Tania chose the tag line,"Rehydrate, Replenish, Refresh", to reflect what makes her product different from the energy drinks and protein shakes now on the market. 
Pro NRG is water-based.  It contains an "energy blend" of seven essential vitamins that will aid you in breaking down carbs, and 15 grams of whey protein.  This combination provides the quick energy and sustained nutrition necessary to get through a workout, or the activities of a normal, active day. It contains no sugar, no caffeine, and zero grams of fat.
So, how does Tania feel about jumping in with the sharks?  "I'm ready", she says. Everything I've done up till now has been preparing me for this moment." 
Interviews can be arranged by contacting Eddie Dee, at 917-861-8860, or [email protected]