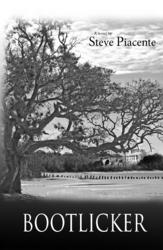 "A timely story of hope ... written as only an insider could write it."
...former SC Gov. Mark Sanford
(PRWEB) October 18, 2012
Steve Piacente's Bootlicker, the tale of a chilling secret that links two political powerhouses and threatens a historic Southern election – has drawn rave reviews since its Sept. 29 launch.
Former SC Gov. Mark Sanford says, "In an era of heightened political sensitivities, Piacente's Bootlicker is a timely story of hope, a tale of guilt and redemption, written as only an insider could write it."
The Tampa Tribune adds, "An authentic, thought-provoking and entertaining look at what happens when greed tramples goodness and decades-long deceit devours a decent man's soul."
And former National Press Club President Larry Lipman says, "The torment of his main character - torn between his ambition and sense of justice - will stay with the reader long after the book ends."
The story begins in 1959, when poor, black teen Ike Washington stumbles on a Klan lynching led by a white judge. Caught, he must choose: join the dead man or begin hustling black support the ambitious judge needs to advance to the U.S. Senate. In trade, Ike gets a life of comfort and power. Decades later, as he is poised to become South Carolina's first black congressman since the Civil War, guilt-wracked Ike winds up alone in the same forest where the hanging took place, a long rope in his fist.
In a tumultuous election year, Bootlicker pulls back the curtain on Southern politics and goes where television cameras are never invited – to back rooms where deals are cut, futures are plotted, and where right and wrong are not so easily defined.
Piacente was Washington Correspondent for the Charleston (SC) Post-Courier for a decade. His first novel, Bella, was named the Best Military Fiction book in the 2012 Indie Excellence Awards, and won the Readers Favorite 2012 Gold Medal for Dramatic Fiction.
A professional writer for more than 35 years, Piacente graduated with a communications degree from American University – where he's taught journalism classes for 15 years – and a masters in fiction from Johns Hopkins University. He began speechwriting for a federal agency in D.C. and today heads the agency's web and new media teams. He has been recognized by the National Press Club three years in a row for his fiction writing, and in 1990 was the club's runner-up for the Robin Goldstein Award for Regional Reporting in Washington. Originally from Brooklyn, Piacente grew up on Long Island and now lives in Rockville, Md. with his wife. He shares insider tips on self-publishing excellent literary content as an expert contributor for numerous organizations and websites.