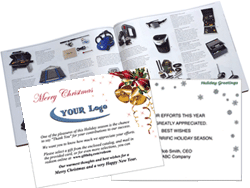 I love the new album cover choices.
Oak Brook, IL (PRWEB) October 16, 2012
When companies let employees choose their own Holiday Gift, they are not simply allowing employees to make their own gift decision, they are also reinforcing a sense of employee empowerment.
Employee Christmas Gifts show employees that management appreciates their contributions and dedication, and delivers the message that each employee is a valued member of the organization.
"Business owners and human resource managers want to find the perfect gift to help say 'Thank You' to their employees", said Greg Kern, Executive VP of Select-Your-Gift. "And, they want to say it with a nice gift in a memorable Holiday presentation package."
With years of experience providing Employee Holiday Gifts, Kern says there are two important considerations when planning gifts for Christmas. First, give employees a gift they want and can use. The best way to do that is to allow employees to choose their own gift from a gift catalog. Second, make the gift experience memorable by including a holiday message from management, printed with the company's logo, on holiday stationary.
With the new customization options announced today, Select-Your-Gift has made the search for perfect employee holiday gifts even easier. Simply decide how much to spend on each employee, select the cover design for the albums, and choose a holiday stationary. Provide a message and logo and Select-Your-Gift will create the ultimate employee gift packet.
There are 18 gift album price levels to meet the needs of every corporate budget, starting as low as $16. Each album level offers more than 100 gifts choices. Select-Your-Gift guarantees all gifts, and shipping and handling of gifts to any of the contiguous 48 states is included.
To see all of the newly announced employee gift album customization options, visit http://www.Select-Your-Gift.com, and be sure to request a sample holiday packet.
About Select-Your-Gift, Inc.
Select-Your-Gift, Inc. is a leading employee incentives and recognition company. The company aims to help businesses recognize and retain their employees and features the highest quality customizable Gift Album Presentation Packets for employee incentive or recognition programs, all at discount prices.