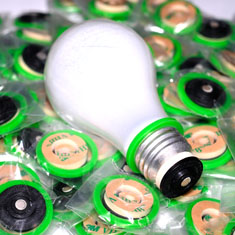 The PowerDisc is UL tested and will make the standard Incandescent Light Bulb last 10 years!"
-Albert J. Fabulich, Senior Electronic-Component Engineering Consultant
Los Angeles, CA (PRWEB) October 16, 2012
Confused about the apparent "ban" on incandescent light bulbs? Wondering why incandescent bulbs are so controversial? Here is the secret on how to continue using traditional bulbs that emanate natural clean light. The PowerDisc has just been released to the public in May 2012 and is scientifically proven to extend the standard life of incandescent light bulbs for up to 10 years.
The PowerDisc is a sophisticated solid-state rectifier (an original patent-pending diode attached to a plastic molding) that converts 120 volts of alternating current to approximately 85 volts of direct current. The PowerDisc is UL tested to reduce energy consumption and maintenance costs as well as extends bulb life up to one hundred times.
Don't let energy-efficient light bulbs become a hazard to our planet by using mercury-infested compact florescent lights (CFL) or lead and arsenic filled light emitting diode (LED) bulbs. For both business and home environments, continue using the basic and affordable incandescent bulb to minimize the risk of harmful side effects associated with CFLs. The PowerDisc can deliver both safety and efficiency while saving money on electricity bills at the same time. With this small step toward efficient power, PowerDisc can bring the plant a step closer to cleaner energy for our future. To receive more information or to order the PowerDisc please visit http://www.PowerDisc.com.
About Envirolite Corp.
Envirolite Corp. is a high-technology company that manufactures and markets proprietary, energy-efficient products and services on a universal scale established in Nevada in May 2011. The Envirolite PowerDisc is Envirolite Corp.'s flagship, patent-pending innovation that efficiently converts AC to DC power in incandescent light bulbs. This technology significantly reduces energy consumption and maintenance costs as well as extends bulb life up to one hundred times. Our commitment is to empower the consumer to make educated choices regarding the health and quality of life. We take 'green' to the next level. For more information about Envirolite Corp. visit http://www.powerdisc.com or call 888.944.9995