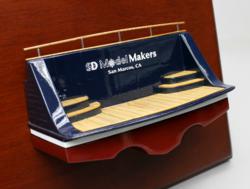 A new customized natucial gift- every boat owner will cherish forever!
(PRWEB) October 16, 2012
San Marcos, CA (October 16, 2012) San Marcos California based SD Model Makers announces the introduction their new Transom Design Models. The transom is often the most recognizable and detailed feature on a vessel as it often carries her name and home port. (The transom is the back section of the boat above the waterline) Using photographs supplied by the customer, SD Model Makers craftsmen will recreate an exact replica the transom section, mounting it on a wood baseboard, incorporating an optional brass or silver inscription plate to the client's specification.
"The idea for our Transom Models came from customer requests for a smaller, yet customized boat model" states SD Model Makers President, Captain Brad Poulos. "Customers are excited to get an exact replica of the back end of their boat, showing the boat name and hailing port – a true custom made ship model, with a smaller, yet elegant model presentation. We've seen them used not only for vessel owners but as business card holders, commissioning ceremony gifts and promotional items."
The Transom Models are offered in three standard sizes – 4, 5 and 6 inch hull widths. Larger model sizes can be made upon request. Mounted on a satin finished Mahogany baseboard, each model comes fully assembled with a solid hull - hand carved from kiln-dried Mahogany, with other parts made from a variety of woods, putty, resin and metals. Using marine grade paints, the models are exact replicas of the back section of the ship, including any wood deck planking, stainless railings and fittings, deck cleats, and swimming platforms.
As a widely recognized leader in producing museum quality replica ship models, SD Model Makers master model shipwrights have a celebrated history of making detailed replica ship models of private sail and power boats, as well as naval warships, ocean liners and tall ships. Captain Poulos explains: "We specialize in making museum quality ship models. We have built scale replicas of all types of vessels including commercial workboats – container ships, tug boats, LNG carriers, OSVs - even offshore oil platforms. As well as replicating mega yachts and catamarans. Providing models as gifts, office displays or trade show exhibits in any size or scale for ship builders, boat yards and vessel owners is a core competency of our business. Many of our customers are boat owners who like the idea of having a model of their boat. Some have ordered two models – one for their home and one for their office. The introduction of the Transom Model Design is a great variation to our popular half hull model line. I often tell my clients, the boat may come or go, but the model will remain a cherished memento forever!"
SD Model Makers offers museum quality replica ship models of commercial, military and private vessels. The company can produce ship models in any size or scale desired, as well as display and transportation cases. For further information Captain Brad Poulos at (760) 525-4341.