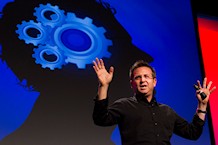 "Education to Thrive was developed to assist organizations, individuals, and educators, who are looking for new ways to consider the work they are currently doing, providing them with time to reflect on new frameworks..." Dr. William DeJean
(PRWEB) October 16, 2012
Dr. William DeJean, an internationally recognized writer, researcher, speaker, educator, and social justice and equity advocate today announced the launch of his dynamic and interactive website, http://www.williamdejean.com.
DeJean believes that education at its best, helps all to thrive and has developed an interactive website supporting this theory though the creation of interactive tools and supportive materials. For William, Education to Thrive means creating, leading, and supporting educational opportunities that by design, helps individuals, communities, and organizations, find their way in the world.
"Today, wherever I travel, I am meeting and working with organizations, community groups, educators, and individuals who are working together through a time of tremendous change. The work they are doing is more complex, more challenging, and is often moving at pace that provides little time for deep reflection," says Dr. William DeJean. "Education to Thrive was developed to assist organizations, individuals, and educators, who are looking for new ways to consider the work they are currently doing, while also providing them with time to reflect on new frameworks for themselves, their team, and for the organizations they are working within."
For over 20 years, William has taught both at the high school and university level, and in 2002 he was named San Diego County Teacher of the Year. Today, he continues to support AVID's (Advancement Via Individual Determination) success in Australia and throughout the United States. Having introduced AVID to Australia in 2009, William currently spends much of his time coordinating the efforts and initiatives for the advancement of AVID Australia. In 2010 he was a featured speaker at Tedx Canberra speaking on AVID's development throughout Australia.
William's opportunities to write, consult and speak internationally on holistic educational perspectives are ever-expanding his professional platform, and creating what is next on the journey for Education to Thrive.
Dr. William DeJean can be reached at william(at)williamdejean(dot)com and follow his international work on Twitter.