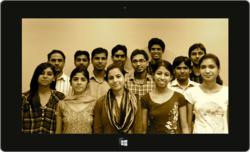 Windows 8 Metro UI is an innovative and exciting platform. It took the collaborative efforts of DbyDx Software, PVR Cinemas and Microsoft to launch this app.
New Delhi, India (PRWEB) October 16, 2012
Mobile movie ticketing has been made effortlessly simple with this wonderful PVR Cinemas app. This Windows 8 Metro UI app allows the patrons to book movie tickets on their Windows 8 device with ease. This app also lets movie goers view show timings and details for movies running across all the screens of PVR Cinemas.
Users can watch the latest theatrical trailers, extract movie information and book tickets securely right on their Windows 8 device. Patrons of technology should be on the lookout for the next level of this app which would combine the powerful features of Augmented Reality, Location Based Services and Push Notifications that would revolutionize and enhance the experience of movie reservation and viewing. By simply pointing the Windows 8 device at the theatre, users would be able to view the details of the shows being screened and book the ticket with a single tap on the screen. All this is not fantasy but quite possible with DbyDx Software.
Comprising of a healthy mix of newbies and veteran developers, the team led by Prakash Gupta is ecstatic after app's release on the Windows Store. "We were operating on very rigid timelines so naturally the journey was exciting, strenuous and not without its fair share of challenges. But I am glad we made it to the Windows Store before Windows 8 hit the market. Our hard work has paid off."
Congratulating the team on the wonderful achievement Abhishek Vinod Singh, the CEO of DbyDx Software said, "The acceptance of the app in Windows store was big news both for PVR Cinemas and DbyDx Software. We got valuable support from Microsoft during development of the app. It being one of the first apps on Windows store proves once again that DbyDx Software adapts early to new technologies and has reinstated our position as the best offshore mobile app development partner. The Windows 8 app follows the success of the PVR Cinemas app for iPhone and Android platforms."
About DbyDx Software
Established in 2005, DbyDx Software is a leader in Mobility Solutions with core competency in Mobile Application development. At heart, DbyDx Software comprises of a team of dynamic and enthusiastic people who strive to help businesses go Mobile. From iPhone, Android, BlackBerry, Windows Phone, Symbian & J2ME- DbyDx Software builds innovative mobile apps on these platforms. The key differentiator of DbyDx Software is their commitment to provide premium quality solutions to customers by combining the creative zing of developers with high-end DbyDx Hybrid Extreme Programming (DbyDx HXP) approach. Headquartered in New Delhi, India, DbyDx Software has Global Delivery Center in United States and India.
About PVR Cinemas
Incorporated in 1995, PVR Cinemas pioneered the multiplex revolution in the country by establishing the first multiplex cinema in 1997. Currently, their geographically diverse cinema circuit in India consists of 44 Cinemas with 197 screens spread over 27 different cities covering major markets across the length and breadth of the country. In FY 2011 the PVR Cinemas brand has been successful in entertaining more than 19 million esteemed patrons across its properties. Today PVR Cinemas contributes 20-25% of domestic box office collections of any leading Hollywood movie and 12-13% of any leading Bollywood movie, highest across the Indian Film Exhibition space.