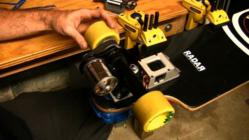 Consumers decide exactly what they want the finished product to be.
Gainesville, FL (PRWEB) October 16, 2012
What does karaoke and a backyard barbecue have to do with revolutionizing the electric vehicle market? If you ask Aaron King and Nic Morganti – the co-founders of RedRock Boardshop – the answer is "Everything."
Their non-conventional approach towards life and business has been key to their success in capturing the attention of the skateboarding community, while adopting the culture and business model of the aftermarket automotive industry.
Unlike the fixed designs and conservative conceptual improvements coming from their electric skateboard competitors, RedRock Boardshop's 'universal motorized skate truck' easily satisfies current and future market demands by letting consumers decide exactly what they want the finished product to be – by choosing everything from the skateboard deck, wheels, components and parts from any existing skateboard manufacturer. Even the LaGrange's electronics are completely programmable, though the settings come already optimized for the equipped 3200 watt / 4.3 horsepower premium brushless outrunner motor and ready to ride.
Although aware that what they've taken on is no simple task, according to King, "We're just trying to make the electric skateboard personal again."
With prototyping and user testing completed earlier in the year, the RedRock Boardshop 'LaGrange L1' skate truck is ready for market. In order to make the tried-and-tested hardware available to everyone (from eco-conscious commuters to board sport enthusiasts), the RRBS team decided on Kickstarter to crowd-fund the financial boost they need to build their initial capital for distribution to skateboard manufacturers.
Morganti explained the distribution plans further: "Once we get the 'L1' to a wide variety of manufacturers, we can then reach skaters and commuters where they're already buying the brand-name components and accessories they know and trust."
However, Kickstarter is an 'all-or-nothing' fundraising platform and time is running out for Aaron, Nic, and the 'LaGrange L1' motorized skate truck – their project campaign finishes on Sunday, October 28th. And when it ends, so too do the discounted prices: the 'LaGrange L1' is available on its own ($300), as a kit set (starting at $950), or as part of a ready-to-ride complete board setup (starting at $1188).
"I'd pretty much do anything for $10,000." King admitted while discussing the other rewards they're offering in order to raise the full amount of their $99,999 project goal.
"Unfortunately, Kickstarter wanted us to be a little more specific than that." Morganti acknowledged. "So, we thought some RedRock branded skate tools, helmets, and hoodies would be pretty sweet."
As for the 'rock star' karaoke night and 'hog wild' backyard barbecue rewards they're offering?
"We're all about giving people what they want, and having a good time while we do it. So, if someone wants to seriously back us financially, get us up and running, we will more than gladly sing and grill for them. Seriously."

RedRock Boardshop was co-founded by long-time friends Aaron King (an active skater and board sports enthusiast since 2002, who is also a working engineer and graduate of the University of Florida) and Nic Morganti (who is a self-proclaimed 'jack of all trades' in engineering, manufacturing, and process optimization, with an academic background in accounting and marketing). They were notorious for taking over their parents' garages as kids and are now working on taking the skateboard industry by storm (from their own garages).
RedRock Boardshop LLC
502A SW 2nd Street
Gainesville, FL 32601
http://www.RedRockBoardshop.com
888-377-7514
Kickstarter: http://kck.st/SpOcUG