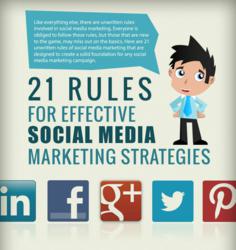 ...an immediate way to apply crucial concepts to their social media efforts.
(PRWEB) October 17, 2012
The "21 Rules for Effective Social Media Marketing" report was recently published by the experts at Social Metrics Pro. This report was such a hit with marketers and social media managers that an infographic was created. This infographic is a valuable tool for internet marketers and their teams for building success with social media engagement and marketing. The visually appealing representation of 21 unwritten rules contains uncommonly known best practices that every business needs to know. This solves the problem for marketers who are currently striving to retain the service and reputation demanded by the ever changing demands of consumers.
The "21 Rules for Effective Social Media Marketing" infographic can be printed out for use in giving marketers and social media manager's immediate information that will improve their performance. While the infographic makes it apparent that there are specific objectives with social media engagement that businesses should adhere to if they are serious about their growth, it also contains another important reminder that can enhance the entire process. The way it is laid out gives even beginning marketers an immediate way to apply crucial concepts to their social media efforts.
To reinforce the most important unwritten rules in the infographic a free eBook is available. Social Metrics Pro created this eBook, "How 10 Businesses Communicate Effectively on Social Networks", as a case by case study that reveals how some of the world's most successful marketers are achieving success through their social media engagement and communication. Some of the brands included in this comprehensive study include Ford Motor Company, Comcast and Burberry. It also highlights pros and cons of the top four social media platforms.
About Social Metrics Pro: WordPress users were finding it too cumbersome to keep an eye on analytics across all their social media channels, so Daniel Tan, who is an expert in SEO and social media marketing created Social Metrics Pro. This WordPress plugin allows users to choose the social media platforms they want to monitor for performance regarding their business, including LinkedIn, Google+, Facebook, Twitter and others. At-a-glance results are offered along with exportable reporting options to assure the most comprehensive set of tools. With this, webmasters and business owners are able to better succeed in increasing their search engine rankings and bring more traffic to their website.