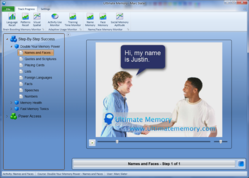 ...individuals who were bilingual were able to process the information better than their counterparts.
New York City, NY (PRWEB) October 22, 2012
Recently-published research has shown that people who are bilingual are better at processing information than individuals who are monolingual. They are better able to manage and tune out background noise than their counterparts. As a result, bilingual people are more effectively able to process information.
"We at Ultimate Memory have always believed these findings to be true," states Marc Slater of Ultimate Memory. "For a person to learn a second language, he or she has to have strong processing, listening, and memory skills. We are excited that now there is research to prove what we have known all along to be correct."
To determine the affects of bilingualism on the brain, brainstem responses were recorded in both monolingual and bilingual persons. In quiet conditions, it was found that both parties processed information at relatively equal rates. However, in noisy conditions, individuals who were bilingual were able to process the information better than their counterparts.
Changes in the region of the brain that processes information were seen in bilingual persons while it was not seen in monolingual persons. It was concluded that individuals who are bilingual can block out unimportant information, noises, and sounds, while paying closer attention to important details. Researchers believe that bilingual speakers are better able to multitask than individuals who are monolingual.
As research in this area continues, Slater is still very optimistic about the findings so far. "Memory is so important to a person's level of functioning. If knowing two languages can help increase memory, we are in full support and look forward to the continuing research in this area."
For more information on how Ultimate Memory software can help, please visit: http://www.ultimatememory.com
******
About Ultimate Memory™
Ultimate Memory™ is the market's leading memory improvement software package.
Scientifically proven to improve memory with as little as ten minute's user per day, Ultimate Memory™ is also backed by an iron-clad guarantee.
Containing many innovative strategies, tutorials, tips and exercises, users benefit from a myriad of varied ways to learn.