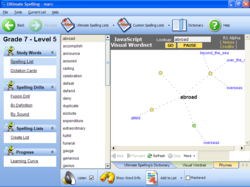 Most people think that learning to spell is something that only applies while in school, which it is not...
New York City, NY (PRWEB) October 19, 2012
"This ICM survey on 2,500 Britons' spelling skills is eye-opening," noted Marc Slater, the managing director of Ultimate Spelling™. The study establishes that although 96% of the participants felt spelling to be significant, only 1 in 3 individuals could define the correct spelling of 'separately' and 'definitely.'As Mr. Slater commented further, "Although these results are for the majority rather surprising, for me as manager of a Spelling Software company, they aren't. I know firsthand the spelling difficulties and weaknesses of adults. The great percentage of misspellings and wrong assumptions that this study revealed doesn't shock us. Neither it should disappoint people or lead them to conclude the matter's hopeless. Rather, it should act as an incentive for improving their spelling skills."
Asked about the reason why so many people misspell common words, Marc Slater responded: "This study merely reflects a wider misconception people have pertaining to spelling. Most people think that learning to spell is something that only applies while in school, which it is not; people should never stop working on improving their spelling, and for that matter their other skills too. If they did, these results wouldn't come up today."
Ultimate Spelling™ noted that children's exposure to "instant messaging" slang might explain young people's poor spelling skills, as this has been identified as one component in the ICM survey. Abbreviations, spell checkers, and auto-correct are tools the LOL generation uses. These and other habits contribute to spelling abuse and spelling deterioration. "Initiative should be taken in order to address this issue of poor spelling skills," Mark Slater concluded, "and awareness is the first step towards fixing the problem."
For more information on Ultimate Spelling and its full features please visit the official website: [http://www.ultimatespelling.com.
*******
About Ultimate Spelling™
Ultimate Spelling provides a modern and easy to use spelling software that has been designed with one goal in mind – making children WANT to learn.
It is a fast and easy way to master even the most complicated spelling, without the need to write long lists or complete boring tests.
In fact, Ultimate Spelling provides more than just spelling help. It is a complete educational resource that boosts all level of a child's literacy.
Containing a personal computer tutor, Ultimate Spelling is the most realistic step-by-step guide to flawless spelling ability.