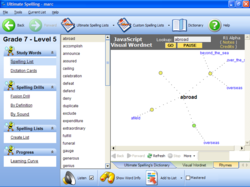 It's one thing being good at spelling, and it's a whole different story being a Spelling Bee champion.
New York City, NY (PRWEB) October 23, 2012
The creators of Ultimate Spelling™ software recently announced that for children to become Spelling Bee champions, consistent parental support is necessary.
Ultimate Spelling™ states that being a Spelling Bee winner for the fifth time in a row is no coincidence for Snigdha Nandipati. Her passion, and the support she gets from her parents, were the defining factors for her success, her father told New Delhi Television (NDTV) in a recent interview.
"It's one thing being good at spelling, and it's a whole different story being a Spelling Bee champion," Marc Slater, managing director for Ultimate Spelling™ commented today. "Seeing children being encouraged by their parents for realizing their goals is a noteworthy example of proper parenting. The world needs more of this type of parenting for sure," he stated.
The example set by Mr. Nandipati and his family shows that believing in one's skills is of utmost importance. Wishing to support his daughter in her training for the Spelling Bee contest, Mr. Nandipati came up with a basic Spelling Bee training software program. It worked: finding what best suited his daughter, the latter was able to train effectively and eventually win the contest.
"It all comes down to personal preferences, and finding what works for you best. For one, it might be flashcards, for another a spelling bee software application. Ultimate Spelling encourages children not to give up until they find what works for them," Slater noted. "Mr. Nandipati's supportive efforts cannot be congratulated enough. He showed how persistence, parental love, and creativity can achieve great things. Such parenting is saluted and respected," Marc Slater concluded.
For more information on Ultimate Spelling, please visit the software's official website at [http://www.ultimatespelling.com.
*******
About Ultimate Spelling™
Ultimate Spelling provides a modern and easy to use spelling software that has been designed with one goal in mind – making children WANT to learn.
It is a fast and easy way to master even the most complicated spelling, without the need to write long lists or complete boring tests.
In fact, Ultimate Spelling provides more than just spelling help. It is a complete educational resource that boosts all level of a child's literacy.
Containing a personal computer tutor, Ultimate Spelling is the most realistic step-by-step guide to flawless spelling ability.