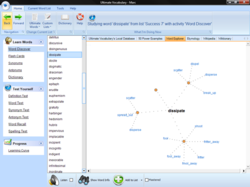 Learning English is going to give students so many more opportunities that they would have had otherwise.
New York City, NY (PRWEB) October 24, 2012
Good wishes are being sent from Ultimate Vocabulary to all top English language achievers. Across California, students have been honored for their proficiency in learning the English language. One point two million students are currently learning English and 42% have achieved this level of accomplishment. This is approximately a five percent increase from last year.
"Congratulations to all top English language achievers," enthuses Marc Slater of Ultimate Vocabulary Software. "This is a great feat to obtain and one that should be highly recognized. We salute you in all of your achievements."
Students are tested on their speaking, reading, writing, and listening skills and all grades are eligible to participate. In addition, they must also receive acceptable teacher and parent evaluations.
Since 2002, scores on state English proficiency tests have been on the rise and the expectation is that they will continue to do so. A much greater and more significant emphasis, including using a variety of different teaching methods and strategies, has been placed on helping children to learn the English language. Students are also taught mostly using English, which teachers and administrators consider to be a significant factor in learning the language as well.
By becoming English proficient, students are hoping to obtain higher levels of achievement throughout their school, college, and professional careers. "Learning English is going to help kids throughout their entire lives," adds Mr. Slater. "It's extremely important to learn. Learning English is going to give students so many more opportunities that they would have had otherwise. We, at Ultimate Vocabulary, are excited to see what the future will bring."
For more information on the features of the Ultimate Vocabulary software, please visit: http://www.ultimatevocabulary.com/
**********
About Ultimate Vocabulary™
Ultimate Vocabulary provides a proven and powerful platform, built to improve anyone's vocabulary.
The interactive self-improvement system provides more learning tools than any other program on the market, as well as more information on words.
The Ultimate Vocabulary software provides each and every user with a personal computer tutor. Providing a step-by-step guide to learning a powerful vocabulary, Ultimate Vocabulary is the learning tool everyone can benefit from.
Of course, the software is also backed by eReflect's iron-clad money back guarantee.