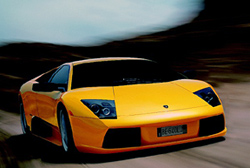 The Lamborghini Murcielago is sophisticated, incredibly stylish, and one of the most desirable exotic sports cars in the world.
Miami, Florida (PRWEB) October 15, 2012
Prestige Luxury Car Rentals has added the Lamborghini Murciélago open top coup and the Murciélago Spyder convertible to its fleet of world-class exotic luxury cars in the Prestige Miami showroom. The Murciélago joins the Lamborghini Gallardo and Gallardo Spyder in Prestige's lineup of international automotive royalty, now available to rent for three days or three weeks to accommodate every schedule.
True to the Lamborghini style principles of precision, sportiness and functionality, the two-door, two-seat, high performance exotic was styled by Peruvian-born Belgian Luc Donckerwolke, Lamborghini's head of design from 1998 to 2005.
Named for a legendary nineteenth-century Spanish fighting bull, the Murciélago combines a muscular and agile design with powerful performance capabilities. One of Lamborghini's long lines of high performance automobiles, the Murciélago builds upon the Italian car manufacturer's legendary design and engineering heritage while achieving new levels of quality, luxury and safety.
"Lamborghini is the height of high performance vehicles," says Prestige Business Development Manager Xylina Roman. "It's sophisticated, incredibly stylish, and one of the most desirable exotic sports cars in the world.
"Cruising around town in a Murciélago on vacation, or simply as a treat for anyone who dreams of driving a Lamborghini is now an experience everyone can enjoy - one that our customers say they will never forget."
The Lamborghini Murciélago is available through Prestige's Orlando and Atlanta showrooms as well, with a delivery fee.
Prestige staff members are available from 8 am to 8 pm daily at all three locations. For more information about Prestige's fleet of exotic luxury and sports cars, call 305.513.9711 (or toll free 1.888.513.9711), visit the Prestige Luxury Car Rentals website, follow the Prestige Facebook Page, or email info (at) prestigeluxuryrentals (dot) com.
About Prestige Luxury Car Rentals:
Since 2004, Prestige Luxury Car Rentals has been providing exotic luxury vehicles to customers seeking the ultimate car rental experience. Prestige's professional staff all share a genuine passion for the world's finest automobiles, and that passion translates to superior customer service with every rental. Making sure customers have fun and relish their dream car adventure is top priority.
In addition to its Miami base, Prestige Luxury Car Rentals has expanded its showroom locations to Orlando and Atlanta. The Orlando location services Northern and Central Florida, and the Atlanta branch services North Carolina, South Carolina, Tennessee and (with some limitations) New Orleans. All three locations offer a fleet of exotic luxury and sports cars including Aston Martin, Audi, Bentley, BMW, Cadillac, Corvette, Ferrari, Hummer, Jaguar, Lamborghini, Land Rover, Maserati, Mercedes Benz, Mini Cooper, Porsche and Rolls Royce.