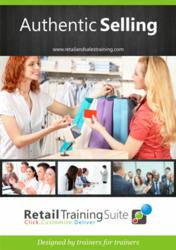 Traditional stores have one huge advantage - they provide a shopping experience that online stores can't match, no matter how interactive their virtual host is.
(PRWEB) October 17, 2012
When a store's sales decline, it's easy for the manager to blame online competition, but statistics show the vast majority of sales still occur in traditional retail stores. Retail managers need to look within their own four walls first before blaming external factors. Certainly, their greatest point of difference is the shop assistant, and so retail training is more important than ever if bricks and mortar stores are to sustain their massive lead over their online counterparts.
Authentic Training Company Founder Melissa Davies says, "Without a doubt, competition in the virtual world is heating up. But traditional stores have one huge advantage - they provide a shopping experience that online stores cannot match, no matter how interactive their virtual host is. Retailers need to play on this advantage, as to stay stagnant is to risk losing an even bigger share of the market. Training in retail needs to extend beyond the meet and greet, cash and wrap model of yesteryear. Sales assistants need to be taught how to enhance the customer's experience, better engage them and capture their interests. Retail training needs to focus on showing sales assistants how to create theatre in store by demonstrating products, running in-store events and providing ideas and inspiration. They need to be taught how to provide memorable service, world class service, service that reminds people why they love to shop in store with real people and not online".
Authentic Training have launched a training package to help retailers retain their lead over online competitors. The company has also launched a retail sales skills package specifically for Christmas, with an emphasis on creating in-store theatre and a memorable Christmas shopping experience for customers.
Moving forward, retailers will need to lift their game if they are to continue to retain the largest stake of retail sales. Apathetic, disinterested, unhelpful and unknowledgeable staff members are enough to turn anyone to the virtual store. Customers simply won't tolerate bad or even ordinary service anymore. They want world class service and retail managers need to look at new ways to provide it. Investing in a world class retail training package is the first place to start. Authentic Training has developed a retail sales training package to help them create a world class shopping experience.
Further information:
Authentic Training specializes in developing innovative retail and sales training packages that small business owners, managers and trainers can deliver themselves. Their vision is to provide a suite of tools that empower retail teams to achieve unprecedented levels of success and professionalism.
Authentic Training
http://www.retailandsalestraining.com