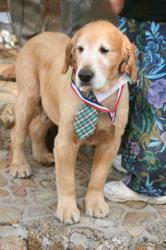 Residents cast their votes via $1 donations with proceeds benefiting ARF, a non-profit, no-kill animal shelter.
Idyllwild, CA (PRWEB) October 16, 2012
Mayor Max, "Maximus Mighty-Dog Mueller," recently marked his first 100 days in office, and pledged to continue helping local non-profit groups raise money and draw new visitors to Idyllwild, his scenic hometown in the San Jacinto Mountains.
In a fundraiser "election" organized by Idyllwild Animal Rescue Friends (ARF), Idyllwild residents voted Max as the honorary mayor of their unincorporated mountain community. Mayor Max was inaugurated on July 1, and has already made significant strides, helping (along with all of the Idyllwild mayoral candidates) to raise over $31,000 for animal rescue efforts. In the election, he ran against 13 other dogs and two cats, and residents cast their votes via $1 donations with proceeds benefiting ARF, a non-profit, no-kill animal shelter that rescues animals who have been abandoned, lost, or whose owners can no longer care for them. The election was the most successful animal rescue fundraiser ever held in Idyllwild.
"Max has big plans and has been implementing far-reaching programs during his first 100 days in office," said Phyllis Mueller, co-campaign manager. "In addition to fundraising for animal rescue in Idyllwild, Max is spreading his message of unconditional love and performing as many good deeds as possible."
During his first 100 days in office, Max participated in a variety of community events and fundraisers, helping local and regional non-profit organizations such as the American Legion, Idyllwild HELP Center, the Philanthropic and Educational Organization for Women, Forest Folk, and many others. Max especially enjoys Chamber of Commerce mixers, where he gets to meet and mingle with Idyllwild business owners.
"Many people ask Max if he could run for President," said Glenn Warren, co-campaign manager. "He certainly would be happy to do so and loves helping improve the lives of every human and animal on the planet."
During the remainder of his time in office, Mayor Max plans to continue meeting Idyllwild residents and visitors, and providing help wherever he can. In particular, he wants to help ARF and other animal rescue groups to find good homes for every animal in need, and he participates in many events for numerous rescue organizations. Max's ongoing initiatives for the town include helping to improve the happiness, well-being, and economic prosperity of every individual in the community. He is helping with local events, including Idyllwild's annual Christmas Tree Lighting ceremony on November 23rd, and other programs to increase tourism.
Currently, Mayor Max is reaching out to other cities and towns around the country to demonstrate how this successful election fundraiser was implemented, in hopes that other communities will launch similar efforts for animal rescue organizations. During his time in office, Max plans to deliver his campaign platform messages to Washington, D.C. and the United Nations.
About Mayor Max
Max is dedicated to fulfilling the duties of his mayoral job description and also as outlined in his campaign platform. To find out more about Mayor Max and what one canine can do to help the world, please visit http://www.mayormax.com. Monthly recaps of Max's activities are included on the web site with a great deal of additional information about Max, the election and his plans to help the world. Become a friend of Mayor Max on Facebook.