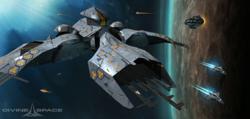 An immersive, beautiful space adventure set in a hard sci-fi genre. Built using real astronomical data with a deep storyline and a living universe!
(PRWEB) October 16, 2012
WHO: Dodo Games
WHAT: A Russian developer is starting to collect funds amounting to $100,000 for an adventure/quest ARPG, Divine Space, for many platforms, from iPads and Android to PC, Mac and Linux.
WHERE: Moscow, Russia
WHEN: Wednesday, October 10, 2012
DETAILS: The Russian studio, Dodo Games, is proud to announce that its adventure/quest ARPG, Divine Space, will be launched at Kickstarter on 10 October 2012. The campaign will continue for 45 days; the end date is 23 November 2012.
Divine Space page on Kickstarter
Available media assets:
Divine Space site
Concept-arts
Screenshots
Videos
Further information About Divine Space:
Divine Space has received very positive feedback from Kickstarter getting a conversion of 2.7% which is continuously growing.
Dodo Games producer and project lead - Anti A. Danilevski describes Divine Space as a "unique sci-fi space game that currently has no analogues due to its genre and style".
Divine Space is a 3D space adventure/quest ARPG in hard sci-fi genre, with real-time combat and click-n-go controls. The first version of the game will be released for iPads, within 2-3 months version for Anrdroid pads will follow. Next version will be for PC/Mac/Linux and then big cross-platform – MMO (previous are single-player versions). Versions for Ouya and iPhone are currently under consideration.
Divine Space is a game with modern, high quality graphics, powerful quest mechanics and last generation AI system. The game combines the best from old favorite cult games: the adventuresome spirit of Star Control, the surprising depth of theme of Homeworld, the liveliness of the game world of Space Rangers, the commerce of Elite. At the same time, in putting the game together the most up-to-date technologies and trends are used, thanks to which the game universe exceeds most competitors in beauty, while the extremely simple controls make the game accessible even to a child. Some are calling Divine Space a successful mix of Dark Orbit and Eve Online.
Key features of the game:
1. Simple, casual controls, not requiring any gaming skills;
2. A universe created according to real astronomical data: the stars have their real names, positions, colors, and parameters;
3. Simple and casual construction of ships from parts;
4. The game is built in the genre of hard science fiction;
5. ААА title for the iPad and Android platforms;
6. Thanks to the genre chosen and the style of the game, 3D implementation, and casual controls, at present there are no analogs among space games on any platforms;
7. It includes many other types of activities – battles, grinding, trading, exploration, engaging in quests, building and fitting out ships, making tactical and strategic decisions, diplomacy, and group relationships.
The game integrates many possibilities that are favorites among gamers: building ships from parts and then fitting them out with weaponry, equipment, and engines; acquisition and collection of resources, exploration of unknown stars and planets, meeting and socializing with other pilots and characters; of course the game has lots of various quests and assignments. The economics of the universe reacts to events occurring in it, prices change depending on whether the stores are filled with some goods or, on the other hand, because of a deficit of others, which makes commerce truly interesting and fascinating.
The mission of the team is to create a game that's totally up-to-date, raising the fundamental moral and ethical questions of humanity: should people be free or do they need to be controlled? Should humanity be independent or should life be in a world of limitations created for the greater good? Is that a good thing for civilization? And, in spite of the seriousness of these questions, the most important task of the developers is to make an entertaining, gripping gameplay and a beautiful game universe that is interesting and delightful to move through.
An educational, developing, and formative game—that's the team's third goal, but not the least important one. This doesn't just show the stars; it also teaches about their types and spectral classes, types of planets, and possible temperatures of planets around various stars and at various distances. In dialogs some characters will tell about this or that scientific or technical feature or will tell a story, giving a better understanding of what space is, and radiation, and solar wind. What kinds of asteroids are in space, what kinds of resources can be extracted and why they might be needed... and much more. Going through the game, people will not only imperceptibly learn natural science but will also become aware of various political and social mechanisms that exist in our society.
The theme of the game develops in a deeply thought-out game world, the roots of which stretch through our own time, technology, and politics. The characters have their own personalities, stories, goals, desires, and worldviews. The gamer will run across turns of the theme not seen before, which will surprise even inveterate fantasy fans. An intentionally ordinary opening, classic for the genre, will lead to a completely unpredictable finale and will give gamers reason to think about the universe and our role in it. Each will answer for himself or herself what is good and what is evil... and one thing completely certain is that the answers will be completely different.
Development history
The design of the project was worked out in the fall of 2011 and by the end of 2011 experiments and play-tests were conducted to test the viability of the idea and the demand for it. Based on the results, it was decided to start with a small single version for iPad and Android.
By the summer of 2012 prototyping and development of the structure were conducted, as well as creation of a playable alpha-version. In August, 2012 the prototype was finished, and the most complex stage of development was also completed—setting up the game universe with real astronomical data with a number of stars and systems.
In September, 2012, when all requirements had been met, full-power development and refactoring of the prototype was begun, in the process of which the prototype will be converted into a quality product with high optimization, essential for satisfactory operation on mobile devices.
In order to get the project done, the team needs additional funds so as to increase the staff of associates and to fill out the game universe with additional art. With this goal the team has carefully prepared a design for Kickstarter.com, setting the lowest possible bar for completing the project in the planned volume.