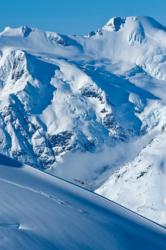 transform your world from 9-6 to MI6
London (PRWEB) October 17, 2012
Exhilarating! Exciting! Extreme! Follow in Bond's ski tracks with the ultimate ski-escape. Embrace the inner 007 and master his techniques with MI6 ski training on-hand. This dramatic seven day trip will captivate the senses from downhill chases, heli-lifts to untouched peaks, Jacuzzi dips and tasting world-class cuisine. Get the adrenaline racing at 12,000 feet and keep cool while visiting hidden lakes and frozen ice tunnels. Put the MI6 gadgets to bed for the evening and dine at the finest mountain retreats then descend by torchlight to a hot tub for some champagne…oh James!
Revisit From Russia with Love and recreate that speedy moment by hopping aboard a personal powerboat. Maybe it's best to step out of the tuxedo for this one. Feel the rush of an agent whilst manoeuvring in style and skill through the waters as they represent a unique challenge of expertise. Up for the task? Maybe after the powerboat master class with Neil Holmes; seven-time world power boat champion and three-time world speed record holder! And just so the moment is truly unforgettable, there will be photographs taken by award winning marine professionals, on Edition….now that's one for the mantle!
It's more than evident that Bond indulges in the thrill of the chase…yet he always remains unscathed, unfortunately for Q the same can't be said for his classy getaways. Q Escapes is here to provide the ultimate double agent driving skills by giving professional training and creating an exhilarating situation where the vehicle are a target. One can learn how to deal with real life scenarios a Close Protection Officer may face. Whether one considers close protection as a career or merely wishing for the thrill of the experience there are life-changing skills to be learned. There will be a full risk assessment and a dedicated Paramedic on site at all times because even James is prone to his bumps and bruises, Bond just always has his girl to kiss and make it better.
Get the spy senses tingling! Receive a secret package in the night containing a brief on targets, objectives and a secure mobile phone! Guests receive an anticipate call the next day directing them to intensive special ops training ranging from; surveillance techniques, to unarmed defence, to radio procedures to basic weapons training! After honing their skills, there will be a mission ready enough to make M proud and then guests will receive their first objective. The possibilities are endless, there will be high-speed racing across London to locate and track the target, utilising the intense firearms training, dining in luxury at a Prague restaurant before traveling once more. After a successful mission relax in the surroundings with truly authentic local cuisine and entertainment. Q Escapes is here to transform your world from 9-6 to MI6 and leave guests with the experience of a lifetime.
The Extreme Wine Experience, 17-21 June 2012
A true double 0 agent knows the importance of a work hard-play hard mentality! And although he may like things shaken but not stirred, Bond certainly knows his merlot from his malbec. Escape to the heart of a Provencal vineyard, stay in a 5* luxury estate and enjoy the indulgences of the surroundings whilst learning the art of food and wine pairing. Taught in English by Clive Barlow, Master of Wine, and acclaimed wine educator Nick Dumergue, this week long intensive course will have the wine knowledge tip top in no time. Enjoy gastronomic pairing menus amongst luxury accommodation and breath-taking vineyard vistas.
For further information on safari adventures or other escapes visit Quintessentially Escape or contact the team on enquiries(at)quintessentiallyescape(dot)com / +44 (0)20 3073 6651
About the Company:
Quintessentially Escape is a sister business of Quintessentially, the leading international luxury lifestyle company. Launched in 2000 as a small London based concierge service, Quintessentially (http://www.quintessentially.com) has experienced a complete transformation in a decade, and currently have offices in over 64 cities around the world. The service provided to their discerning and HNW members is proactive and personalised, catering to every member's need, from last minute restaurant bookings, travel arrangements, and access to private parties, as well as fulfilling every unusual request and successfully connecting businesses all over the world. Quintessentially can offer access to the inaccessible and can make the seemingly impossible, possible. In a bid to ensure only the very best service is delivered across the luxury market, Quintessentially has also launched 32 luxury sister businesses comprised of experts in every luxury division. This includes real estate, travel, luxury retail, wine, art, flowers, private aviation and more (http://www.quintessentiallygroup.com).