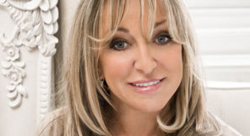 By the time my ladies get to this stage, they've been to hell and back and this is the end of a very difficult time for them. This restores some sense of pre-op normality
(PRWEB UK) 18 October 2012
As breast cancer survival improves every year, Breast Cancer Awareness Month has become more than checking yourself for lumps and bumps according to Debra Robson-Lawrence.
In fact, the specialist in permanent make-up and keen supporter of cancer charities wants to show women that life after the horrid disease doesn't have to strip you of your femininity.
In the UK, nearly 50,000 are diagnosed with breast cancer every year – the equivalent of one person every 10 minutes! – But approximately four out of five will overcome it. With this in mind, Debra is using October to show women that there is light at the end of the tunnel after diagnosis and treatment.
Debra Robson-Lawrence is donating 10% of all areola reconstruction fees to the dedicated charity, Breast Cancer Care, and this is not just for Breast Cancer Awareness Month, but is a permanent fixture in her company.
Speaking of post-cancer treatments, Debra said:
"By the time my ladies get to this stage, they've been to hell and back and this is the end of a very difficult time for them. This restores some sense of pre-op normality."
For women who have undergone a mastectomy as part of overcoming breast cancer, the nipple is lost, furthering a demand for reconstructive breast and nipple surgery once treatment has finished.
What this can't offer however, is nipple pigmentation. Areola reconstruction ensures that the nipple is re-pigmented so as to look like a natural nipple.
But this isn't just a vanity thing, according to Debra who added:
"Simple things like going on holiday and being able to wear a bikini and seeing that shadow underneath, through to just standing naked and looking at themselves in a mirror and seeing the illusion of two nipples, where there would have just been a breast mound."