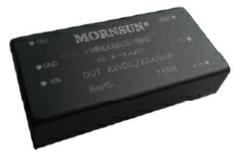 (PRWEB UK) 17 October 2012
Relec Electronics is pleased to announce the availability of Mornsun's new 30 & 50 Watt DC DC converters available in high density 2" x 1" packages at extremely competitive prices. The 50W VRB_LD families have a working temperature range down to -40°C and up to 105°C case temperature as a result of their very high operating efficiencies, making them ideal for a wide variety of industrial applications.
The VRB_LD family meet EN55022 class A EMC emissions as standard, and will meet class B with a range of off the shelf filters or standard designs.
Relec Electronics also offer a full custom engineering solution facility if you require any additional features or are looking for a stand-alone chassis or din rail mountable product.
Features

Efficiency up to 93%
Input ranges 18 - 36V & 36 - 75V DC
1500V (1.5kV) isolation as standard
Six sided metal case for low EMC emissions
Short circuit protection
Operation down to -40°C
Good EMC performance
Output enable and trim features as standard
Low cost & short lead-times
Availability
Samples of both the VRB_LD-30WR2 and VRB_LD-50W series are generally available in 1 - 2 weeks with volume production available on a fast 3 - 4 week lead-time. Contact Relec Electronics technical sales staff for further information and availability on samples.
Relec Electronics are a specialist distributor offering expert technical advice with a broad range of power conversion products including AC DC Converters, DC DC Converters and Plugtop & Desktop power supplies.
John Stone
Sales Director - Relec Electronics