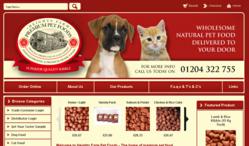 The digestive systems of cats and dogs are not designed to cope with human foods which include high levels of sugar or carbohydrates
Bolton, Lancashire (PRWEB) October 15, 2012
The results of surveys undertaken by the People's Dispensary for Sick Animals has highlighted the increasing problem of pet obesity after it was revealed that 2.9 million dogs and approximately 3 million cats are overweight.
The canine data came from both PDSA PetCheck assessments of nearly 30,000 dogs, where charity nurses visit various locations around the UK to raise awareness of pet healthcare, and from an online survey published on the charities' website.
Stephen Ward, owner of Bolton-based premium dog food suppliers, Heights Farm Premium Pet Foods, was alarmed by the results. 'We are a nation of animal lovers and our pets are often regarded as family members in many homes across the country. The data reported by the PDSA was a stark contrast to our nation's animal loving identity - it seems that we love our pets, but we don't know how to keep them healthy.'
During the period between 2006 and 2010, the percentage of overweight dogs has risen by 21% to 35% overall. Of the owners surveyed in the assessments, 84% believe their pets to be the right weight, suggesting that there is a popular misconception of what a dogs' ideal weight should really be.
'I think there's a lot of us pet owners who admittedly treat our pets as surrogate children,' says premium dog food supplier, Stephen Ward. 'Sometimes it's all too easy to fall into the trap of feeding your pet unhealthy treats and large amounts of food,'
'Excess pounds can contribute to a number of serious health conditions and sadly, it does reduce life expectancy,' says PDSA Senior Veterinary Surgeon, Sean Wensley. 'But the good news is that it's never too late to make positive changes to a pet's diet and lifestyle.'
The data for cats did not fare much better, as results from PDSA assessments made in PetAid hospitals around the country determined that approximately 25% are overweight. Pets that are overweight possess a lower life expectancy and can risk serious health conditions including arthritis, diabetes and heart disease.
'As responsible pet owners, it should be in our interests to ensure our pets are as healthy as they can be,' says Heights Farm Premium Pet Foods owner Stephen Ward, a recognised supplier of premium dog food. 'Unhealthy pets have lower life expectancies and owners can expect expensive vets bills from reoccurring and complicated medical conditions caused by a bad diet.'
Providing an incorrect, unhealthy diet was the main cause of weight gain, as was over-indulging pets with treats and snacks. 90% of dog owners polled online in separate research on the PDSA website admitted to feeding their pets human treats citing takeaways, biscuits, toast, cheese, crisps and cakes.
'It can be tempting to give your pet treats,' says premium dog food supplier, Stephen Ward. 'But the digestive systems of cats and dogs are simply not equipped to deal with the high sugar and carb content in human foods.'
'Many owners don't know what a healthy shape is for their pet and may see their pet as simply 'cuddly', not realising that they are overweight,' advises PSDA Senior Vet, Sean Wensley. 'Owners should ask their vet, or visit the PDSA website for advice and guidance on a correct body shape for their pet.
'We should hold our pets,' diets in the same way we regard that of our children,' says Stephen Ward, who supplies premium dog food to homes across the UK.
'For example, it's widely known that when children consume E-numbers, a whole host of medical issues can arise. E-numbers were once commonly used in human foods but thanks to extensive testing we now know that those chemicals are dangerous and have been banned in many countries.'
'Even colourants such as E104, E102 and E110, known as Sunset Yellow, can cause damage to the human kidneys and adrenal glands. If we are aware of the damage additives can do, we shouldn't be feeding them to our pets,' says premium dog food supplier, Stephen Ward. 'I've discovered through simple trial-and-error that when pets were fed with food rich in artificial additives, eye and ear discharge, skin problems and hyperactivity can be expected. If you have a child who is allergic to wheat, you remove it from their diet. The same goes for a dog; providing wheat free dog food will prevent any discomfort and ill health.'
'Seek veterinary advice: PDSA advises owners to speak to their vet before making major changes to their pet's diet or activity levels,' says PSDA Senior Vet, Sean Wensley. 'Rapid weight loss can be dangerous or even fatal, so it's important for a vet or vet nurse to oversee the weight loss to ensure that it is gradual and safe.'
'Remember that dogs don't particularly care whether their food is brightly coloured, bone or heart shaped - this is a marketing ploy aimed at the owners, not at the pets,' advises Stephen Ward, a supplier of wheat free dog food. 'Dog food manufacturers have to declare what ingredients are used in their product, so pay attention to the packaging,'
'Prevention is better than cure,' explains PSDA Senior Vet, Sean Wensley. 'Preventing obesity is much easier than getting a pet to lose weight. A good diet when a pet is young is essential - fat puppies and kittens are more likely to become fat adult pets due to the number of fat cells they produce while growing.'
'At Heights Farm Premium Pet Foods, we can provide sample packs of our products to allow owners to discover what premium pet food best suits their pets. If you are currently reviewing your pet's diet and are aiming to provide a healthier option, give us a call or visit our website to arrange for your free sample pack,' says Stephen Ward. 'Allowing you to trial our foods on your pets and review the results without committing to a large purchase. We can supply cat and premium dog foods across the UK - what's important to us is that your pet is being provided with the health it deserves.'
This press release was released by Vizcom Design as part of an ongoing search engine marketing campaign.