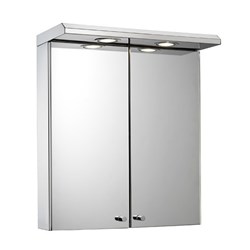 ...finding the perfect selection for you has never been easier.
(PRWEB UK) 16 October 2012
If space in the bathroom is limited, a bathroom cabinet can prove to be a valuable item. Wall hung storage facilities provide a brilliant function for storing any bathroom items to create a clean and fresh look. If a full bathroom refurbishment is unavailable, bathroom cabinets provide a great opportunity for home-owners to gain the benefit they need. At Bella bathrooms, a wide range of high quality products are available to purchase easily with the aid of their easy to use website.
It is important to purchase a cabinet for your bathroom that matches the overall look and design of the room. With this considered, Bella bathrooms have stocked a wide diverse range of items in a variety of colours, styles and even additional useful functions. For example, bathrooms mirror cabinets are perfecting for providing two useful functions in one. Not only can it be used to store any required items, but the mirror feature can come in useful when ensuring personal appearance is of high standard.
If lighting in a bathroom is of low quality or quantity, the company also stock illuminated bathroom cabinets to help add an extra amount of light. This can be useful for gaining the extra improvement for standard bathroom needs. An illuminated bathroom mirror can also reduce costs within a home by reducing the need of installing separate lights to create the same effect. With the benefit of the added light, each unit comes in a stylish design perfect for anyone wanting a luxurious look.
Their bathroom mirror range come in a variety of styles therefore finding the perfect selection has never been easier. As each bathroom is a different, the company has stocked a range of shapes including square, rectangular and circular ideal to suit anyone's taste. Each are available in a specific stylish finish including white and stainless steel to match other interior items already contained within the room. All units are available to purchase instantly online with quick delivery.
About Bella Bathrooms:
Bella Bathrooms is one of the finest UK online bathroom retailers based in the North-East of England and offer continuous great deals of bathroom refurbishments, shower, tower rail and radiator updates, bathroom furniture and various other key elements at prices that are guaranteed to be unsurpassable. The latest updates continuously made have further improved the overall quality and they have set a high standard for things to come in the future.
Bella Bathrooms
Tel: 0844 8117 017
Available to contact from 8:30 – 4:30