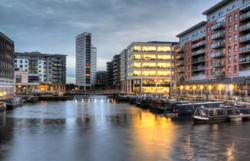 The growth of Leeds' financial district is transforming the city into a major business hub.
UK (PRWEB UK) 31 October 2012
Leeds: The city of Leeds has seen a surge in new company formations during the first six months of the year. According to the latest Duport Business Confidence Report, there were 1252 companies formed between January and June, representing a 21% rise on the same period in 2011. More details on company formation in Leeds can be found in the full report at http://www.duport.co.uk/leeds.
Leeds has one of the biggest financial centres outside of London, which has contributed to a high rate of economic growth in recent years. Companies such as Aviva, KPMG and Direct Line have major offices in the financial district, as does the Bank of England.
Tourism also plays an important part in the economy of Leeds, with a yearly average of 1.5 million overnight visitors and 10 million day-trippers. Tourism supports around 20,000 jobs in the area and brings in nearly £735 a year to the city.
Peter Valaitis, Managing Director of Duport.co.uk said:
"The growth of Leeds' financial district is transforming the city into a major business hub. This, together with the healthy tourism industry, is a big draw for business start-ups - so it's no surprise we're seeing a rise in the number of company formations in the city."
The Duport Business Confidence Report for Leeds provides facts and figures on the current economy as well as historical data, including net company growth and UK company share. Duport reports on each area of the UK on a quarterly basis.
Duport Business Confidence Reports are generated and released by Duport Associates Ltd. The data contained in these reports is assimilated and analysed by Duport using public record data from sources including Companies House, Office for National Statistics and Ordnance Survey. Duport Associates Ltd is a leading UK company formation agent, established in 1997 and registering around 10,000 new companies each year through its Companies House approved software.