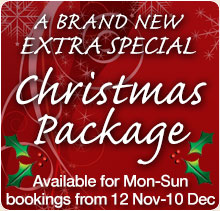 In addition to our regular package you can enjoy a range of complimentary therapies as an extra Christmas treat and all this is available for no more than our regular 7 Day Detox Programme cost, ensuring you get something extra for your Christmastime.
Northamptonshire (PRWEB UK) 22 October 2012
New research conducted in September suggests that around 46% of people in the UK look to drop at least one dress size in the twelve weeks running up to Christmas, with 10% looking to drop three or more sizes. However, the temptations of the Christmas season are often hard to avoid and the majority of people are said to gain at least half a stone over the period itself. The Seven Day Christmas Detox and Weight Loss Programme at Homefield Grange gives people the chance to re-programme their minds and change their entire lifestyle for a healthier future.
The Seven Day Christmas Detox and Weight Loss Programme takes place in the rural Northamptonshire countryside, a relaxed atmosphere in which to regain focus and work towards personal weight loss goals. Packages can be tailored to suit individual needs and in addition to the regular seven day programme, Christmas guests can enjoy a number of additional treats including relaxing facial treatments and reflexology. The centre accommodates just fifteen guests ensuring an intimate and personalised atmosphere is of the utmost importance. At the end of the stay guests are left feeling revitalised and fresh, the perfect start for the New Year.
The Seven Day Christmas Programme can be booked between 12th November and 10th December and bookings will be made on a first come, first serve basis. With a huge range of additional extras for Christmas guests will be charged no extra cost and can enjoy their detox retreat and get on track for the New Year.
Company information
Homefield Grange is a dedicated, established and permanent spa retreat open 51 weeks of the year, assisting clients making positive changes towards their health and well-being. This caring team of qualified practitioners will provide all the help you would expect from a professional organisation.
For more information about Homefield Grange you can visit http://www.homefieldgrange.co.uk or call 01536 712219 or you can email enquiries(at)homefieldgrange(dot)co(dot)uk